Posted on
Mon, Feb 20, 2012 : 3:30 p.m.
U-M student's 'Walk of Shame' shuttle service idea goes viral
By Cindy Heflin
A University of Michigan student is getting a lot of attention for a business idea she hatched called the "Walk of Shame Shuttle" and the "mock commercial" for it that she put up on YouTube.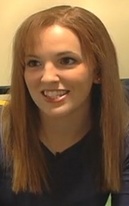 Kellyann Wargo
told the Michigan Daily
a couple of weeks ago that she was creating the service for people who want to avoid the embarrassment of calling a cab or having to walk home after a night on the town or, ahem, "other activities." Wargo's idea was to offer a ride to anywhere in Ann Arbor for $5.
Wargo, 21, said she originally figured she would just offer some rides for her friends and sorority sisters, mainly because her parents told her she needed to get a job so they wouldn't have to keep giving her money. But after she posted the idea on her blog, blog Ginger Ambition, and it went viral on the Internet, she decided to turn it into a real business.
She was on her way Monday to have dinner with someone who offered to build a website for the business for free. She has already gotten a chauffeur's license, purchased the url walkofshameshuttle.com, and is taking steps to register her business with the State of Michigan, she said. She's getting some help from her parents, who she said are eager to protect her idea and help her get the business set up.
Her business plan was featured on the website BroBible.com and even got a link from Sports Illustrated's website. It was also featured on the car blog Jalopnik, and got a link from the website Fark.
Her video has had nearly 36,000 page views. She wrote that an earlier one that she took down because of "editing issues" had 50,000 page views.
The senior art and design major from Farmington Hills is interested in comedy and said her ultimate goal is to be a red-headed version of comedienne Chelsea Handler, but she thinks the Walk of Shame Shuttle can help her reach that goal.
"I still want to be a comedy writer, but I feel like this is really helpming me get that off the ground. ... A lot of people are seeking me out and have read my writing."
She said she can even see the business expanding beyond Ann Arbor. "I would love to see a franchise and I could sort of see that happening,"
See the mock commercial below: