Posted on
Tue, Aug 10, 2010 : 5:59 a.m.
University of Michigan uses math lab to study teaching, help Ypsilanti fifth-graders learn
By David Jesse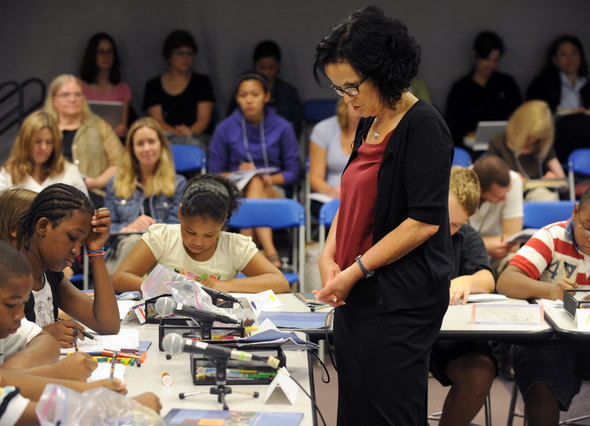 Lon Horwedel | AnnArbor.com
As they filed in, the fifth-graders chatted with their teacher for a minute, planning an end-of-the-class party. They quickly found their seats at large horseshoe-shaped tables, put their heads down and started working on a math problem.
But while it looked like a scene from a typical summer learning classroom, it was anything but.
Most classrooms don't have microphones sitting on the table next to every student and video cameras recording their every move. Nor do they have three tiers of teachers, researchers and academics carefully watching and a closed-circuit video feed to another room with yet more teachers and academics.
But this is the Elementary Mathematics Laboratory project at the University of Michigan's School of Education, designed to not only help students learn math, but also help teachers learn how to teach.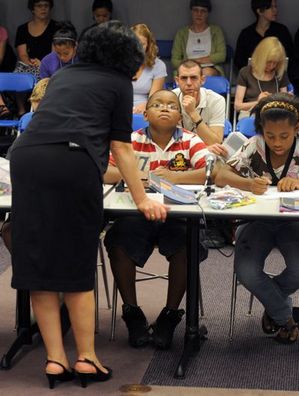 On any given day over the past two weeks, students are learning math, teachers are learning how to teach and other teachers are learning how to teach other teachers - all spending their days in second-floor classrooms at the education school. Between 75 to 100 people watch every day.
The students come from Ypsilanti. They spend a lot time working on fractions, but also focus on expressing how they got their answers. It's part of a national and university effort to increase math literacy among students by getting them to think mathematically.
The focus on fractions is intentional, said Deborah Loewenberg Ball, the dean of the education school and a longtime classroom teacher who is one of the nation's leading mathematics educators.
"Fractions are at the heart of algebra," she said.
The lab has been running for several years and is the brainchild of Ball, who teaches the students each day.
Changes this year include more emphasis on writing, especially in terms of teaching the students to express the way they solve problems, Ball said. And teachers work with students on studying skills.
Students also have homework and take quizzes.
They arrive on campus around 9 a.m., just in time for a pre-class snack.
By that time, the teachers and others who are observing them have been there for at least an hour - meeting in a large group to discuss a detailed classroom lesson plan, talking about what Ball will teach that day and what she wants students to learn.
Last Thursday morning, the conversation ranged from what the students were going to call the lines they were making on a larger number line to the pacing of the lesson.
"Some individuals are finding out specific things that they take back directly to their classrooms," Ball said. "Things like how they are going to set up math notebooks. Others are working on items like how to talk in front of a class, or working on class structure. Others are working on how to teach other teachers how to teach math."
Once the students arrived, teachers watched from the risers or over monitors. They took copious notes - some on laptop computers and some on notebooks - and craned their necks to get a better look at what the students were doing.
A sound technician juggled the students' microphones, turning them on when they were talking - either to the class as a whole or to Ball - to let those watching hear the whole conversation. Ball also wears a microphone.
Once the class is done for the day, the students go on for tutoring and other events.
The observers gather for a breakdown of the day - what went right, what they can learn and what they are going to do the next day.
Then after a lunch break, the teachers attend a variety of workshops designed to help them improve their teaching.
The lab is part of the school's teacher education reform efforts.
"This is a deliberate attempt to provide a place to watch other people teach and working on teaching," Ball said. "We're also studying what's going on so we can develop high-leverage practices, things that if you're good at, there's a good chance your students will be growing."
Later this summer, a high-school level math project will also begin as part of the university's work with the Algebra Project.
From there, Ball hopes to expand to similar labs in other subjects, both to help students with learning, and also to help teachers get better.
U-M plans to continue the lab next summer. Ball said members of the non-teaching public are welcome to come in and watch and learn about teaching.
David Jesse covers K-12 education for AnnArbor.com. He can be reached davidjesse@annarbor.com or at 734-623-2534.