Posted on
Thu, Sep 2, 2010 : 5:47 a.m.
University of Michigan's Language Flagship students groomed to be 'global professionals'
By James Dickson
"In the 21st century global job market," says Dr. Michael Nugent, director of The Language Flagship, "we don't need people who just speak languages and we don't need people who can just work the professions. We need people who can do both."
Since 2008, the University of Michigan has played host to an Arabic Flagship Program intended to do just that.
The Language Flagship is a subsidiary of the U.S. Department of Defense's National Security Education Program, a post-Cold War effort designed to produce a cadre of multilingual "global professionals" qualified to serve the U.S. government's needs by combining their career expertise with fluency in "critical languages including Arabic, Chinese, Hindi/Urdu, Korean, Persian/Farsi, and Eurasian languages."
Dr. Raji Rammuny is director of the Arabic Flagship program at Michigan. Rammuny, who led Michigan through the competitive application process, has been at the University of Michigan as a student or a teacher since 1963.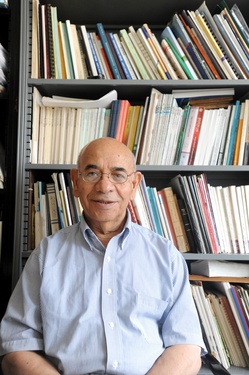 Angela J. Cesere | AnnArbor.com
"I'm not going to say we have the best program, but Michigan has one of the strongest Arabic programs in America," Rammuny said. "What's great about the flagship program is that our students get foreign language, international experience in their own fields, whether that is political science or linguistics or engineering."
Almost 20 years after the NSEP was established, though, the government still has difficulty finding the skilled multilingualists it needs. They have to be trained one by one, and this year Michigan's program will service about 46 students, Rammuny said.
University of Michigan senior Valerie Montes just returned to America from her year at Alexandria University in Alexandria, Egypt. Montes started studying Arabic as a freshman and was admitted to the Flagship Program as a sophomore. The year in Alexandria is a standard feature of the program, and students who need supplemental training before the full year can take a summer program in Alexandria.
"I can't say that everything was hunky-dory, because it was very challenging," Montes said in a phone interview. "This wasn't the typical study abroad, where you're hanging out with other Americans. We spent most of our time working and living with Egyptians, speaking Arabic all day."
Montes worked in the Bibliotheca Alexandrina on a research project on preserving the history of Alexandria. She helped translate documents from Arabic into English.
Doing as the Egyptians did, for a year, proved a constant challenge, Montes said, but as a flagship student Montes believes she learned a lot more than her counterparts who graduated with the traditional Arabic degree.
Even at the State Department, foreign language proficiency is hard to find
"(The U.S.) State (Department) continues to have notable gaps in its foreign language capabilities, which could hinder U.S. overseas operations. As of October 31, 2008, 31 percent of officers in all worldwide language-designated positions did not meet both the foreign language speaking and reading proficiency requirements for their positions...In particular, State continues to face foreign language shortfalls in areas of strategic interest—such as the Near East and South and Central Asia, where about 40 percent of officers in language-designated positions did not meet requirements."
Source: U.S. Government Accountability Office
"There's a lot more asked of you" in the Flagship Program, Montes explained. "You won't get too far taking one Arabic class, even if it is 5 credits. You need the immersion."
Montes said that she's considering an airline or perhaps intelligence work after graduation.
Once U-M's grant expires after this academic year, it will apply to become an Arabic Flagship Center, which is basically a long-term extension of the current grant. While Nugent said this doesn't entail permanent funding, per se — nothing is permanent in the world of government budgets, he cautioned — the hope is to establish a "long-term partnership" with the university.
The NSEP is also looking for new schools to expand its Chinese Flagship Program and to host its program in Swahili. Nugent didn't know whether Michigan was applying for those grants. But when it comes to Arabic, Nugent hopes the NSEP's relationship with the University of Michigan is closer to the beginning than the end.
"The administration at Michigan is really, really behind this," Nugent said. "It's a premier institution in Arabic, with a long-standing tradition of teaching the language.
"I have no reason to believe they won't succeed."
James David Dickson can be reached at JamesDickson@AnnArbor.com.