Posted on
Tue, May 15, 2012 : 5:57 a.m.
U-M computer and video game archive has lofty goal: Collect every game ever made
By Pete Cunningham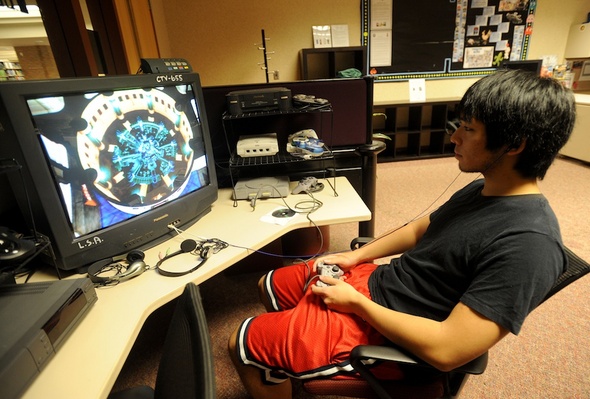 Angela J. Cesere | AnnArbor.com
Navigate through the underground maze of library stacks and study tables in the basement of the Duderstadt Center on the
University of Michigan
's North Campus and you'll find a virtual treasure chest in room B474.
From the outside, the room looks much like the private study rooms that surround it. But on the shelves where books should be there are Xbox 360s, Playstations and more video games than any 12-year-old could ever dream of.
Room B474 is no ordinary library, it's UM's Computer and Video Game Archive, which boasts more than 3,000 games for more than 30 systems.
Unlike other video game archives throughout the world, anybody can come into Duderstadt and play any game available, whether for research or just to relax after a long day of studying.
In that sense, the video game archive is without peer.
"Leaders and best," jokes Dave Carter, who came up with the idea for the archive back in 2007 and has been in charge of it since opening in 2008.
Carter, a computer engineering librarian at UM's Art, Architecture & Engineering Library, has the lofty goal to fill the archive with every video game ever made.
"It's a goal I can never accomplish," Carter said with a smile, in recognition of the fact that if he accomplished the goal tomorrow, he'd be behind again in a matter of hours.
Carter said most of the archive's $12,000 annual spending budget goes toward new games, though he will pounce on a classic if he sees it on EBay.
Most of the older games are donated.
"I always tell them they can donate to us and come visit anytime if they want," Carter said.
The games and systems at the archive range from the most recently released FIFA Soccer games for Xbox 360 to the obscure and unpopular, like the Magnavox CDI 450 which never even gained steam in ironic circles.
"It's legendarily horrible," Carter said holding the three-button controller of the 450. "There's no good games for this thing."
The archive has recreational and academic purpose. Several classes incorporate video games into the curriculum at UM.
Sometimes it's the games themselves are being studied, for example one student researched the censorship of Nazi imagery in American and German versions of the same game.
Other times it's players which are the subject, like an industrial engineering class studying the effects of texting while driving.
"They were like, 'we're not letting bunch of undergrads loose on our $100 driving simulator,' so they came in here," Carter said. "They'd learn to play a driving game, then try and text while doing it and crash into the walls."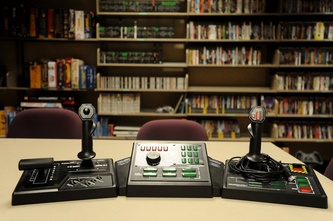 Angela J. Cesere | AnnArbor.com
Some of the games themselves practically require a Ph.D. to play, like
"Steel Battalion" for the Xbox
which requires a controller with three foot pedals, a 7-gear stick shift, five switches, three joysticks, a 360 degree dial and 34 buttons.
Playing the game is about as close to being Iron Man anyone but Robert Downey Jr. has ever come.
Carter estimated about 25 percent of the people that visit the archive are there for research and 75 percent for recreation.
"It's good to get a few hours of refreshment (while studying)," said engineering graduate student Anant Lall. "It's amazing the collection of games they have, it's always fun to get like three or four friends and just relax."
Contact Pete Cunnigham at petercunningham@annarbor.com or by phone at 734-623-2561. Follow him on Twitter @petcunningham.