Posted on
Fri, Feb 10, 2012 : 5:58 a.m.
U-M, EMU officials thankful for increase but skeptical of Snyder's long-term commitment to higher education
By Kellie Woodhouse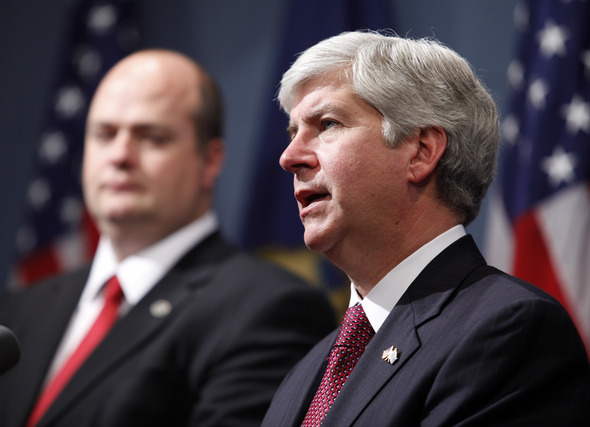 AP Photo
Michigan's 15 public universities will
likely be getting more money next year
, but not as much as they had hoped.
Gov. Rick Snyder wants to restore $36.2 million to higher education during the 2012-2013 fiscal year, he told lawmakers in Lansing Thursday morning as he unveiled his desired budget.
If the proposed budget is approved by the Legislature, public universities will receive approximately $1.4 billion of the state's $48.2 billion 2012-2013 budget.
That's a 3 percent increase from fiscal 2011-2012, but still a fragment of what appropriations were a decade ago, education advocates say.
"We welcome any additional funds after a decade-long trend of disinvestment," said Michael A. Boulus, executive director of the Presidents Council State Universities of Michigan.
"You have to put this in perspective," he continued. "It's $36 million in one-time-only money and it pales in comparison to the amount of money we've lost over the last decade and frankly last year."
Ronald Ahrens | For AnnArbor.com
Not enough?
The proposed $36.2 million increase is roughly three-fourths of the $47.5 million decrease the University of Michigan alone experienced in fiscal 2012. That year, Michigan's 15 state universities were awarded $1.36 billion, roughly $216 million less than the 2010-2011 allotment of $1.58 billion.
The average 15 percent decrease was a blow to universities and put Michigan in the bottom 20 percent of states in per capita higher education funding.
"We need more resources to support our students here," Eastern Michigan University President Susan Martin said in an interview Thursday.
State appropriations constitute approximately 22 percent of the school's operating budget. About 20 years ago, state funds comprised 70 percent.
"The removal of that has led to a deterioration of some of our academic buildings, our residence halls and it has affected our ability to attract faculty and students," Martin said.
At EMU, the decrease also caused a dramatic reliance on tuition revenue. About 75 percent of EMU's 2010-2011 general fund came from tuition revenue.
Formula for funding
For the first time in state history, a portion of state appropriations —the $36.2 million increase— will be tied to four performance indicators, Snyder proposed Thursday. Benchmarks include high completion rates, the amount of students gaining degrees in "critical skill areas," the number of Pell Grant recipients attending the institution and tuition restraint.
In his proposal, Snyder set next year's tuition restraint benchmark at 4 percent, steeper than the benchmark issued in 2011-2012 when the state threatened to cut funding 22 percent (instead of 15 percent) for schools that increased tuition more than 7 percent.
The incentive approach, dubbed formula funding by many, has been controversial among education advocates.
On Thursday U-M Vice President for Government Relations Cynthia Wilbanks said the formula funding model, as proposed by Snyder, is "very focused on undergraduate outcome," echoing a view expressed by the Board of Regents in November. She said Snyder's metrics do not account for the success and progress of U-M's graduate programs, which instruct nearly 16,000 students.
"That also stimulate(s) and helps to support the economic diversification of the state," she said.
Snyder is recommending that EMU in 2012-2013 receive a 2.3 percent funding increase. He wants the Ypsilanti school to receive $64.6 million in operating funding and $1.5 million in performance-based funding. The governor has recommended U-M's Ann Arbor campus receive a 1.4 percent hike, meaning $268.8 million in operating revenue and $3.9 million in performance-based funding.
A return to appropriation heydays?
Martin said that while she understands the need for Michigan to balance its budget in a recovering economy, she's hopeful for a greater increase next year.
"This is going to be a conservative budget," she said. "But there is really a need for public support to help families pay for college.... It's becoming overwhelming for people to deal with the cost so we need federal and state support to reinvest in higher education."
Another increase, however, is not included in Snyder's second-year forecast regarding fiscal 2014. Wilbanks said that doesn't bode well for a full restoration of the near-35 percent in state funds that have been eliminated from U-M's budget since 2002.
"It's a tall order to think about a return to the high watermark of appropriations, at least at the University of Michigan," she said. "The climb back, if you will, is challenging."
Kellie Woodhouse covers higher education for AnnArbor.com. Reach her at kelliewoodhouse@annarbor.com or 734-623-4602 and follow her on twitter.