Posted on
Thu, Jul 14, 2011 : 5:59 a.m.
University of Michigan: 39,570 freshman applications set a record for fall semester
By Paula Gardner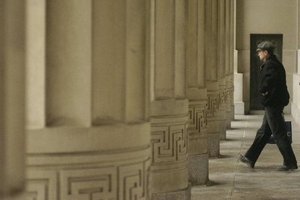 The
University of Michigan
set a record for the number of applications to join the freshman class this year as 39,570 people sought admission for the school year that starts this fall.
That's an increase of 25 percent over the previous year — which also set a record.
It also came as U-M seeks to trim this year's freshman class by about 500.
This fall's class "is going to be smaller by design," said Ted Spencer, associate vice provost and executive director of undergraduate admissions.
"We just don't have enough room to take all of the great kids who apply to the University of Michigan," Spencer said Wednesday.
About 5,970 of those seeking admission will enter U-M — or about 15 percent of the applicants.
So what does it take to get in?
"A strong (grade point average), strong test scores, leadership, great letters of recommendations," said Spencer. "Those will distinguish students."
In 2010, the average grade point average for incoming freshmen was 3.8, with ACT composite scores of 28-32 and an SAT total of 1960-2200 points, according to the admissions department. About 3,000 of those freshmen also earned Advanced Placement credits while in high school.
Other criteria include extracurricular activities, leadership and personal essays unique to U-M's application, Spencer said. Taking harder classes and getting good grades in them will help, as will completing AP classes — since U-M looks at schools' overall grade distributions in addition to how a single student fared in a class.
Even with the increase in the number of applicants, the quality of those applicants is high, Spencer added.
"The academic pool has been outstanding," he said.
Admission is based on a review of all application materials, including The Common App, a national online application service that U-M and 414 other schools use that allows students to submit one application to multiple locations.
Making the switch generated much of the increase, Spencer said, as U-M anticipated that up to 40,000 might apply.
U-M's admissions office hired people to process the increase in applications expected after the switch to The Common App. About 40 people process the applications, and 40 work as counselors in the admissions office, while additional "readers" go through applications when the volume is high, Spencer said.
"We wanted to make sure our readers and our counselors had enough time … to give a thorough review to every student," he said.
A look at the 2010 freshman class shows that about 60 percent are Michigan residents, and they contributed to an overall undergraduate class of 27,027. Of those, about 1,600 were international students.
And making it into the freshman class indicates likelihood that a person will leave U-M with a degree: 96 percent return for a 2nd year and 90 percent graduate, Spencer said, compared to a 60 percent rate nationally.
Meanwhile, Ann Arbor's high schools are among the highest contributors in Michigan toward the applicant pool, Spencer added.
Data also show that the number of minority applicants rose 14.8 percent to 4,265 — while 1,576 were offered a place in the freshman class, a 3.7 percent drop that U-M says is consistent with the overall drop in total freshman.
However, the biggest increase in applicants came from out-of-state students, Spencer said.
The reason? "We're considered to be one of the best schools in the country," Spencer said.
In- or out-of-state, students will pay more this fall: The rate hike is 6.7 percent for Michigan residents and 4.9 percent for out-of-state. In-state freshmen can expect to pay $12,634 for the coming school year, compared to $37,782 for non-residents.
After 20 years in admissions, Spencer said that little surprises him — except for the quality of student.
"The quality amazes me each year," he said. "The young people applying to college, at least in Michigan, are truly the best and brightest students that I've ever seen."