Posted on
Mon, Feb 20, 2012 : 5:12 p.m.
University of Michigan sets record with nearly 42,000 freshmen applications
By Kellie Woodhouse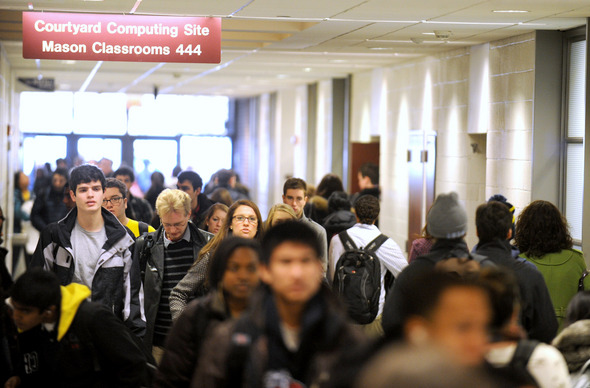 Angela J. Cesere | AnnArbor.com
University of Michigan freshman applications have reached an all-time high and most of the increase is coming from out-of-state applicants.
Provost Philip Hanlon told a group of faculty Monday that the school has received 41,600 freshman applications to date, compared to 38,700 at this time last year.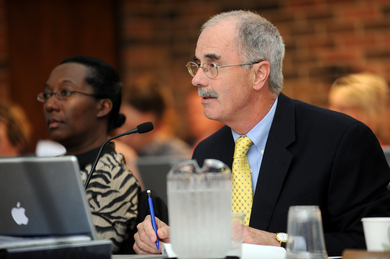 AnnArbor.com
U-M received
39,570 applications total for entry
to the 2011-2012 freshman class, a record at the time and a 25 percent increase from the previous year. Hanlon said he expects applications this year to outpace last year's record by 10 percent.
"Almost all of the growth is in the non-resident applications," Hanlon said at a Faculty Senate Advisory Committee on University Affairs meeting in the Fleming Administration Building.
University officials have attributed the uptick in applications largely to the school's switch to the Common Application for entry into the 2011-2012 freshman class.
"Students... love the ease of applying to the university using the Common App," U-M Admissions Director Ted Spencer told AnnArbor.com.
Despite the increase in the number of applications, Hanlon said the university does not plan to increase the size of its entering freshman class. That decision, he said, is largely due to space constraints. Hanlon said U-M cannot admit a larger freshman class without proportionally increasing the faculty size.
"Where do we put everybody? Where do we put our labs and departments?" Hanlon said.
U-M this year enrolled 27,400 undergraduates, 2,400 more than preferable, according to Spencer. Roughly 6,300 of this year's enrollees are freshman.
The school wants that number below 6,000 in 2012-2013.
The result of a larger applicant pool and a smaller freshman class? Greater selectivity.
Hanlon noted that the academic profile of freshman students has steadily improved.
"If you take a 10-year look at average SAT or average ACT score, it's really quite impressive the improvement," he offered.
The school's undergraduate application deadline is Feb. 1, but U-M does receive additional applications after the deadline. Those are considered on a rolling basis.
Kellie Woodhouse covers higher education for AnnArbor.com. Reach her at kelliewoodhouse@annarbor.com or 734-623-4602 and follow her on twitter.