Posted on
Thu, Mar 22, 2012 : 5:58 a.m.
U-M architecture student summits tallest mountain in Western Hemisphere using self-made tent
By Kellie Woodhouse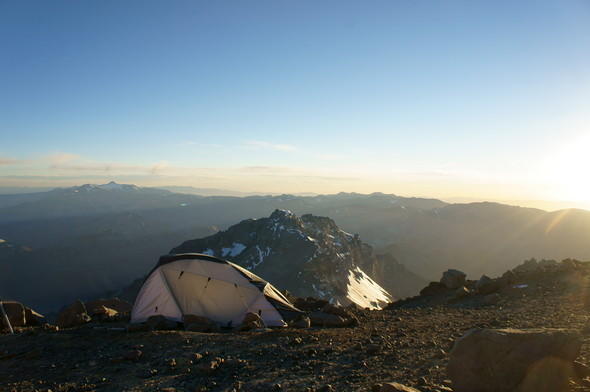 Photo courtesy of Andrew McCarthy
Minutes after erecting his tent on South American soil for the first time, Andrew McCarthy stood at the base of one of the world's tallest mountains stunned by what he had just witnessed.
Day and night for two months he had toiled to design and build the tent he would use as he summited Aconcagua, a peak in the Andes Mountains that stretches 22,841 feet in the sky.
To McCarthy, the tent before him was many things: an integral part of his master's thesis at the University of Michigan, a shelter from the cold nights and unpredictable weather that often plagued Aconcagua and the first inhabitable project the soon-to-be architect had ever built himself.
By the end of the trip, the tent would become a comrade of sorts.
But right then —with the summit still a distant speck in McCarthy's vision— the tent was damaged, its inner and outer layers penetrated by a rock that was thrown in the air by a flash dust storm.
"It's the very first day. I set it up and about 15 minutes later there was a dust storm," recalls McCarthy, now safely home from his climb. McCarthy patched the hole with fabric tape, but the incident would not be the last hurdle the 26-year-old Grand Rapids native would have to overcome during his adventure.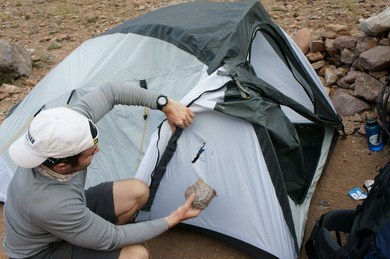 Photo courtesy of Andrew McCarthy.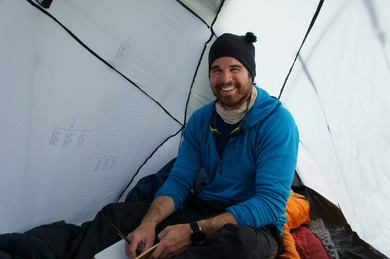 Photo courtesy of Andrew McCarthy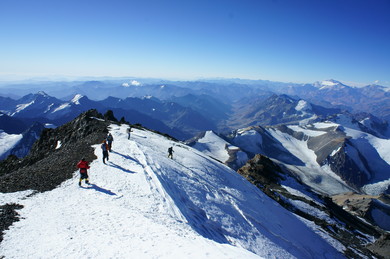 Photo courtesy of Andrew McCarthy
"It was an eye opener to see what's possible."
Exploring unknown possibilities is precisely the reason McCarthy ventured to Aconcagua in the first place.
As a part of his thesis studying architecture in extreme climates and the relationship between nomadic populations and their shelters, McCarthy set out to design, construct from scratch and then use a tent in one of the most severe outdoor climates in the Western Hemisphere.
Weather patterns on Aconcagua —which hosts expanses of arid desert and miles of narrow and icy terrain— are unpredictable and, at times, dangerous. Wind, hail, flash storms and freezing temperatures often impede travelers during their summit. In 2010, five climbers died during their ascent, and during McCarthy's trip three of the nine climbers that accompanied him fell seriously ill and had to be helicoptered off the mountain.
"There's risk involved with climbing mountains," McCarthy plainly admits. "But I've always just wanted to be able to live in something that I created."
For a long time, McCarthy's eventual thesis "was just a crazy idea" brewing in the back of his mind. It wasn't until he voiced the idea to his family and received their encouragement that he booked a ticket— that was Dec. 27, less than two months before he would begin his climb.
When winter classes began Jan. 4, McCarthy approached architecture professor and outdoor equipment designer Shaun Jackson with his plan. McCarthy had never built or designed a tent before and had no idea how to sew, an essential part of the process. Jackson, at first "incredulous" that McCarthy could finish his tent in time, taught him how to sew and advised him on the tent design. Each piece of fabric had to be meticulously measured and applied to achieve the right amount of tension and stretch so the tent could withstand high winds.
"There were definitely a lot of points when people were like, 'Are you going to be able to get this wrapped up in time for you trip?' " McCarthy recalls. After 35 days of planning and building, McCarthy finished his tent in the early hours of Feb. 12. That evening he caught a plane to South America. He would return four weeks later on March 8.
"Bringing something outside the architecture building into the world is a nerve-racking moment," McCarthy says. "There was a lot on the line. What if you get over there and your tent breaks on the plane ride over, or one of the mules breaks it on the way to camp?"
Or, what if a dust storm knocks a hole in it on Day 1?
After McCarthy patched up his tent he spent three days at base camp acclimating to the high elevation. A guide suggested sewing additional anchor points into the rip-stop nylon fabric to make the tent stronger. That same guide —renowned mountaineer Vern Tejas— would later praise McCarthy and his tent for successfully completing a climb he jokingly referred to as a "tent graveyard."
The climb up large mountains is slow and methodical, with climbers spending multiple days at different heights to acclimatize their bodies. McCarthy and his group —a mix of Americans, Australians and Londoners who were led by two guides— slowly moved up the mountain, eventually reaching a camp 17,500 feet high.
At that altitude, the weather turns cold and oxygen becomes scarce. Storms are more common. As McCarthy and his group pitched their tents, the wind began to pick up and a storm formed in the sky above them.
That night, 50-mile-per-hour winds whipped though camp, hail pummeled tents and snow drifts drastically reduced visibility.
"That's kind of when all hell broke loose," McCarthy says.
Photo courtesy of Andrew McCarthy.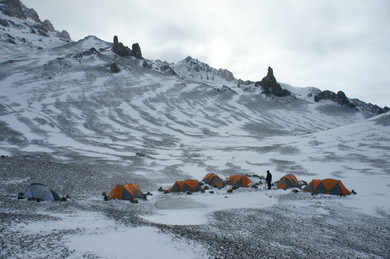 Photo courtesy of Andrew McCarthy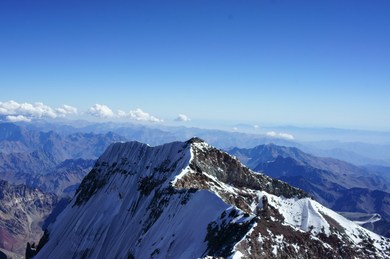 Photo courtesy of Andrew McCarthy.
McCarthy panicked: His self-made tent was much lighter than tents the guide company provided his fellow climbers and, unlike his companions, who slept two to a tent, McCarthy was the only human weight securing his tent to the ground.
"I was concerned that (my tent) would blow away and If it did, it would be like a balloon I was stuck in," McCarthy recalls. "I was thinking 'Was this worth it?' You ask yourself about your project and whether it's a sane thing to be doing."
McCarthy didn't sleep that night, but instead stayed alert and held the tent's poles in place so they were secure.
"(Winds were) approaching hurricane force. That kind of sustained winds is quite remarkable," said Jackson, who has ventured on several mountain-climbing expeditions himself. "It was really kind a baptism of fire for his tent, and it withstood all of the winds."
The next morning, three of the climbers in his group fell severely ill (probably from ingesting tainted water, McCarthy says) and guides warned of more stormy weather. The group left equipment and belongings at their camp and quickly descended 3,000 feet back to base camp, where the three sick climbers were helicoptered to a hospital.
McCarthy and the six climbers left in his convoy were stuck at base camp for four days as the storm raged above them. On the fifth day, the group retrieved their belongings and climbed to a camp at 19,500 feet, and the next day reached a camp at 21,500 feet. After that, McCarthy, using an ice axe, hiked to the top of Aconcagua.
"You're kind of walking through outer space at that point because you're so high and there's no oxygen," McCarthy recalls. "You take a step and then you take four or five breaths and then you take another step and take four or five breaths. You're not moving very quickly."
McCarthy and his group stayed on the summit not more than 20 minutes, he estimates. The view? "Amazing." But even better, McCarthy said, was knowing that he had succeeded in his dream.
"People sometimes ask the question, why? It's well below zero, the winds are relentless, the food and water are barely tolerable, what is the point of going to these extreme places in the world?" McCarthy wrote in his blog after he returned. "Sitting in my tent, looking at the sun rise over the Andes reminds me why."
During his trek, McCarthy took notes on the inside of his tent, remarking on the temperature, his altitude and how his tent was performing. He'll use the notes as he finishes his thesis and he'll have them, along with his tent, as a keepsake of one of the most extreme experiences of his life thus far.
"You develop a relationship with your equipment. It's like a friend, because you need it," said Jackson, who is still advising McCarthy on this thesis. "Given that he built the thing and designed it, I think that his relationship with his tent is even more palpable."
So, back to McCarthy's question in the midst of the storm: Was it worth it?
"Definitely," the climber says. "I've never been closer to anything that I've ever built than I am with the tent."
Kellie Woodhouse covers higher education for AnnArbor.com. Reach her at kelliewoodhouse@annarbor.com or 734-623-4602 and follow her on twitter.