Posted on
Tue, May 29, 2012 : 5:59 a.m.
University of Michigan athletics to launch student loyalty program
By Kellie Woodhouse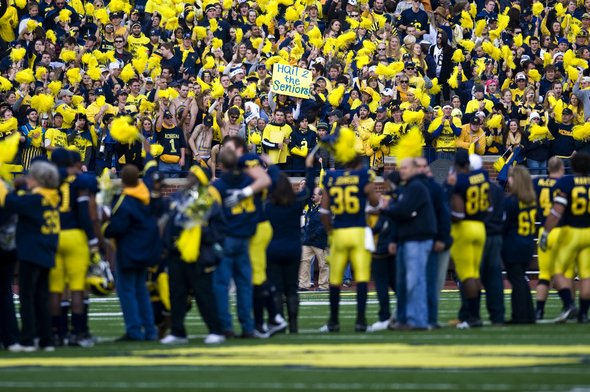 The
University of Michigan Athletic Department
is in the beginning stages of developing a student loyalty program.
David Ablauf, associate athletic director for media and public relations, confirmed that the athletic department is "exploring a student loyalty program" but said that officials "haven't finalized a model for the program" or set a launch date.
Loyalty programs are designed to boost attendance at athletic events by offering students incentives —usually in the form of priority seating at football and basketball games— to go to games early or attend low-traffic events.
A recent U-M job posting for an assistant director of marketing position notes that athletics is establishing "a best in class student loyalty program" and that the employee would be responsible for overseeing the launch, "develop[ing] student profiles, rewards and redemption" and "develop[ing] strategies to increase student loyalty acquisition and engagement."
Ablauf declined to comment further on the loyalty program, saying "we haven't finalized a program and the details yet."
A handful of other Big Ten schools, including Michigan State and Penn State universities, have already established loyalty programs.
Programs can take a variety of forms. Some models encourage students to show up to games early so the student section isn't sparse.
For example, MSU's basketball Izzone loyalty program uses student ID swipe cards to track when students arrive at a game. If they arrive early, they receive points and if they arrive late or not at all, they are penalized. The number of points a student accumulates at the end of season dictates his or her priority order for the next season. In short, if students show up early to games they have a higher chance to snag priority seating next season.
According to MSU, the program has boosted game attendance from a few dozen students in the mid-1990s to more than 3,000 students nowadays.
At Michigan Stadium, the student section doesn't usually fill up until after the first quarter, leaving hundreds of empty seats in the northwest corner of the Big House. Athletic Department Director Dave Brandon has criticized poor pre-game student attendance in the past.
During a talk before business students in November, Brandon lamented that some of the pre-game stunts during football season didn't go as planned due to hundreds of students showing up late to games. He joked that during an Oct. 29 stunt, 'Rocket Man' delivered the game ball after arriving via jet pack, but was "flying toward an empty student section."
"Have one less drink Friday night," he said then, imploring students to show up to football games earlier.
Other models incentivize attendance at non-revenue sports that generally draw smaller crowds than football, basketball or hockey.
For example, Penn State's loyalty program offers students points for attending men's and women's soccer, field hockey, volleyball, gymnastic, lacrosse, baseball, basketball and men's wrestling matches. The top 250 point earners receive guaranteed football tickets and priority seating for next season and the top 10 point earners receive free football tickets.
Last year, Brandon told AnnArbor.com he wants to raise attendance at non-revenue events by ten percent across the board. He also recently announced that the athletic department plans to spend $250 million to upgrade facilities for non-revenue sports, after spending $500 million to upgrade football, hockey and basketball facilities in recent years.
Kellie Woodhouse covers higher education for AnnArbor.com. Reach her at kelliewoodhouse@annarbor.com or 734-623-4602 and follow her on twitter.