Posted on
Thu, Oct 13, 2011 : 5 p.m.
$7.8B University of Michigan endowment at highest level ever
By Kellie Woodhouse
The University of Michigan endowment increased by $1.2 billion this year to $7.8 billion— the seventh largest of any university in the nation.
"It's a huge year," U-M Chief Investment Officer Erik Lundberg said in an interview. "We did better than Harvard, better than Yale, better than Stanford, better than Princeton... in investment return."
The university's endowment had an investment return of 24.3 percent, one of the school's highest returns ever.
The school's endowment grew by 18.2 percent. In the past decade, the fiscal 2011 growth has been matched only by fiscal 2007, during which endowment increased from $5.6 billion to $7.1 billion.
But while U-M's endowment sits at $7.8 billion, Harvard's is above $30 billion.
"They started earlier than us," Lundberg said. "We're working hard to catch up with them."
The university's growing endowment was discussed at a U-M Board of Regents meeting Thursday in Flint. At that meeting, the regents voted to approve the school's 2011 financial report.
Over the past decade, U-M has averaged an investment return of 9.3 percent per year. That means that the endowment has doubled since 2001, when it stood at $3.6 billion.
The university allows itself to spend up to 4.5 percent of its endowment each year. This year, that meant that university got to utilize $266 million from its coffers.
"To the extent that the endowment gets bigger we spend more," Lundburg said.
Regent Katherine White said the university "expects the distribution levels to remain at a similar level next year."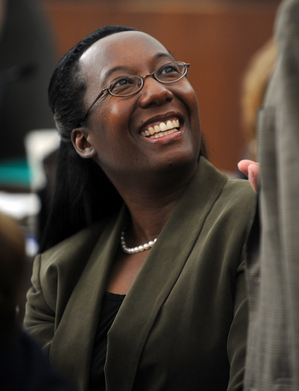 According to White, "the Board of Regents in 1999 established the investment office to be dedicated to managing the University of Michigan's endowment and investment pools."
Since 1999, the school's endowment has increased by $5.3 billion.
The endowment has not enjoyed a steady upward growth since then, however. In fiscal 2006, the endowment fell from $7.6 billion to $6 billion, due to the economic downturn.
"We took a hit for a while, but we recovered," Lundberg said.
In fact, some of this year's increase is due to "recovery from the financial crisis," he said.
The university expects its recent commitment to invest in its own start-ups to continue the endowment's growth trend in the future.
U-M President Mary Sue Coleman announced last week that startups would be eligible to receive up to $500,000 apiece from the university after they've secured venture capital from a separate private source.
"That will be contributing to our investment returns," Lundberg said. "But that will take time to pay off. Companies take a long time to mature."
"This is a win-win program for our endowment and inventors," Coleman said of the program during the regents meeting.
Kellie Woodhouse covers higher education for AnnArbor.com. Reach her at kelliewoodhouse@annarbor.com or 734-623-4602 and follow her on twitter.