Posted on
Wed, Jan 18, 2012 : 2:31 p.m.
University of Michigan graduate students who back unionization say discrimination not uncommon
By Kellie Woodhouse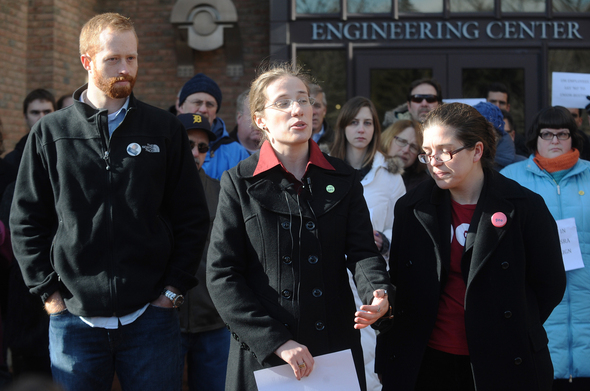 Melanie Maxwell I AnnArbor.com
Recently dismissed University of Michigan graduate student research assistant Jennifer Dibbern says she was unfairly terminated from the College of Engineering because of her involvement in heated GSRA unionization efforts.
A group of between 40 and 50 GSRAs said today at a noon news conference outside the Lurie Engineering Center that Dibbern's case, while extreme, is one of many recent instances of faculty discrimination against students who support unionization.
"My career has been effectively ruined," Dibbern said. She lost her research job in the school's department of materials science and engineering in August and was dismissed from the school in December.
She says she received positive reviews throughout her tenure as a doctoral student at the university until it became known that she was the treasurer for the Graduate Employees Organization, a group that is advocating for the unionization of student researchers.
Dibbern has won multiple awards through the College of Engineering, including an outstanding student instructor award in 2011 and an award for recruiting in 2009. Dibbern says she won a research award over the summer. She was involved in U-M's central student government as a graduate student representative this fall.
"She threatened to fire me if I didn't stop all outside activities," Dibbern said of her advising professor, engineering faculty Rachel Goldman who also serves on the faculty senate's Advisory Committee on University Affairs.
Dibbern cited an email Goldman sent her on Aug. 8.
"I realize you have other things going on but an increased in your focus on research is urgently needed," Goldman wrote. "This will probably require you to decrease your involvement in non-research."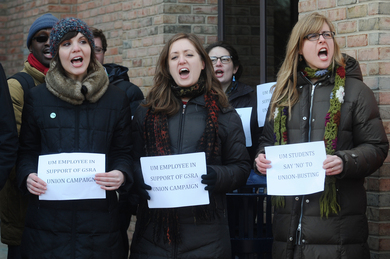 Melanie Maxwell I AnnArbor.com
University spokesman
Rick Fitzgerald
claims that Dibbern was dismissed solely for poor academic performance, which he says he is prohibited by law from commenting on.
"This is an academic issue," he said.
Fitzgerald said university administrators have made it clear that faculty are not permitted to intimidate students who are involved with the unionization effort.
"The university has been very clear that it will not tolerate any discrimination regarding the unionization efforts," he said.
U-M President Mary Sue Coleman spoke against GSRA unionization efforts last spring, but the school's Board of Regents voted to allow graduate researchers the right to unionize over the summer. Since then, that right has been hotly contested by individuals and organizations that say graduate student researchers should not be considered employees. The matter is currently before a judge who was appointed by the Michigan Employment Relations Commission to make the final decision about the legality of unionization. Hearings on the matter are scheduled for Feb. 1, 2 and 3.
Due to the regents' vote in favor for the right to unionize, U-M's on-the-record stance is that the administration supports the right for GSRAs to vote on a union. However GSRAs say many administrators and faculty continue to be hostile toward the unionization effort.
"I have not been personally affected but I can say for sure that many of my colleagues and friends have," said engineering GSRA Jeremy Moore. "What happened to Jennifer is not an isolated act of intimidation. ... This is widespread."
Fitzgerald said that university administrators have not been able to thoroughly investigate claims of faculty intimidation because GEO has failed to provide adequate detail about alleged instances.
GEO leader Samantha Montgomery, a graduate student instructor studying psychology and women's studies, said this summer the GEO approached university administrators with several instances of faculty engaging in intimidation tactics. When the university pressed for details, Montgomery said affected students did not want to identify themselves in fear of retaliation.
"Given what's happened here, I'm glad we didn't identify them," she said.
Kellie Woodhouse covers higher education for AnnArbor.com. Reach her at kelliewoodhouse@annarbor.com or 734-623-4602 and follow her on twitter.