Posted on
Tue, Sep 27, 2011 : 8:03 p.m.
U-M nurses union unmoved by CEO's promise for competitive wages, benefits
By Juliana Keeping
Jeff Sainlar | AnnArbor.com
Addressing an ongoing contract dispute, the chief executive officer of the
University of Michigan Health System
told nurses the health system is committed to competitive wages and benefits packages.
The nurses, about 200 of whom attended the staff-only address at University Hospital wearing red and carrying signs in support of the union, said afterward they didn't buy that message.
"I want you to know we at the health system are absolutely committed to competitive wages and competitive benefit packages," said Ora Hirsch Pescovitz, CEO of UMHS, at a staff-only address at U-M Hospital. "That's because we believe a competitive wage and benefits packages are critical to every one of our employees."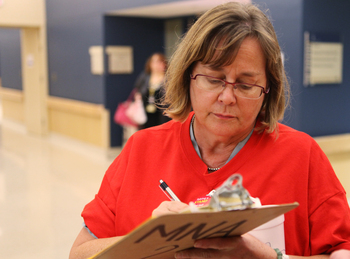 Jeff Sainlar | AnnArbor.com
The meeting was broadcast online.
The two sides have been negotiating a new bargaining agreement for six months; the nurses' contract expired June 30. According to Katie Oppenheim, chief negotiator and president of the nurses' union, there has been little to no headway made on reaching an agreement, despite the use of a state mediator to resolve the dispute.
"We believe there is nothing healthy about this hospital while the nurses don't have a contract," Oppenheim said. "It's not good."
The two parties disagree on allowances for overtime, paid time off and heath benefits. U-M, citing a tough budget year and harder times ahead, is seeking to limit overtime for nurses and increase their health insurance premium.
At the state of the health system address, Pescovitz said changes brought on by health care reform will cost UMHS $100 million over seven years.
Nurses in attendance said that looming financial landscape did not convince them concessions were necessary. Complaining of high rates of executive pay, nurses in attendance were unmoved.
"It's not equal sacrifice," said Michelle Saldana, a registered nurse who attended the address. "They're not leading by example."
Nurses equate proposed increases to insurance premiums to a pay cut; they say experienced nurses will leave, hurting patient care, if the union takes concessions.
Juliana Keeping covers general assignment and health and the environment for AnnArbor.com. Reach her at julianakeeping@annarbor.com or 734-623-2528. Follow Juliana Keeping on Twitter