Posted on
Tue, Mar 20, 2012 : 5:27 p.m.
U-M poll: Majority of adults don't think teenage sexting should be considered a crime
By Kellie Woodhouse
Seventeen states have laws prohibiting teenage sexting. Another 13 states are in the midst of creating similar laws.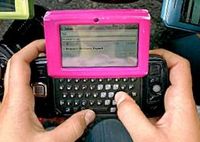 But a new
University of Michigan
poll suggests
that the majority of adults oppose criminal consequences for teens who send sexually explicit, nude, or semi-nude photos by cellphone.
The poll found that 81 percent of adults prefer that teens caught sexting undergo educational programs or counseling instead of criminal charges.
Twenty percent of adults surveyed think youth caught sexting should be charged with sexual abuse and 18 percent believe sexting should be treated as a sex crime. Forty-four percent of respondents support fines of $500 or less for youth caught sexting.
"As youth sexting has become more of a national concern, many states have acted to address the issue," said Dr. Matthew Davis, director of C.S. Mott Children's Hospital's National Poll on Children's Health. "However, before this poll, very little was known about what the public thinks about sexting legislation."
Three-fourths of adults believe community service is an appropriate punishment for teens caught sending explicit images, and 76 percent of adults think schools should teach youth about the consequences of sending sexts while underage.
"This poll indicates that, while many adults are concerned about sexting among children and teenagers, they strongly favor educational programs, counseling, and community service rather than penalties through the legal system," Davis continued.
The poll found that nearly 80 percent of parents allow their teenagers to own cellphones and that 83 percent of these teenagers have camera capabilities on their phone. Ten percent of parents reported that their child has received a sexually explicit message on their phone, and 6 percent of parents said their child has sent a sext.
Last year, middle schools in Saline dealt with multiple teenage sexting incidents, prompting police to host a forum on cyber safety.
Forty-four percent of adults said they believe sexting is a problem among youth.