Posted on
Thu, Jun 16, 2011 : 4:58 p.m.
University of Michigan raises tuition 6.7 percent after $47.5 million drop in state funding
By Kyle Feldscher
Tuition and fees to attend the University of Michigan in fall 2011 will increase 6.7 percent for in-state undergraduate students and 4.9 percent for out-of-state students, under a budget the Board of Regents passed Thursday.
The university will take a $47.5 million cut in funding from the state for the coming school year, the largest in the school's history. In-state freshmen and sophomores will pay $797 more in tuition next year, while out-of-state underclassmen will pay $1,781 more. Tuition increases will raise $46.4 million in new revenue next year.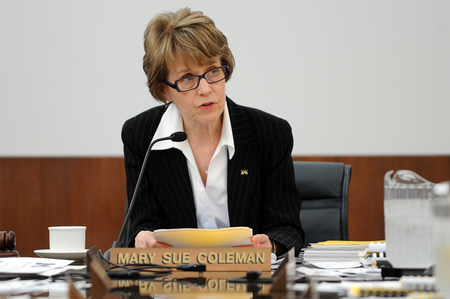 Melanie Maxwell | AnnArbor.com
The increase for junior and senior in-state undergraduates will be about $898 per year and about $1,908 per year for out-of-state upperclassmen. Graduate students will see an increase of about $888 per year and students at the
University of Michigan Law School
will see an increase of about $2,182 annually.
Despite the tuition increase, the university is investing about $9.2 million more in financial aid for the 2011-12 school year.
The $47.5 million cut to the Ann Arbor campus general fund will also result in layoffs and the elimination and downsizing of various centers and institutes at the university, said Provost Phil Hanlon.
But university President Mary Sue Coleman said cuts in the university's budget and the increase in tuition will not affect U-M's quality of education.
"This generation of students expects their Michigan education to be the same quality and deliver the same positive impact in their lives as all those who have come before," she said in a statement. "Our job is to deliver on that promise."
Hanlon said the university is raising out-of-state tuition by a lower percentage than in-state tuition because officials want to ensure students from a variety of socio-economic backgrounds outside Michigan are able to attend the university. He said the school is able to meet the needs of many in-state students through financial aid but cannot do the same for out-of-state students.
"It's really driven by quality considerations and what we want to do is construct the highest quality class we can that's based along multiple dimensions," he said. "It's not just grade point average and test scores; there's lots of different considerations."
Despite the cut in the state appropriation, the the general operating budget for the Ann Arbor campus will still be slightly larger than last year, about $1.6 billion. Last year's budget was about $1.55 billion. The entire University of Michigan system has a combined budget of $6.1 billion.
Regents approved the budget with a 6-2 vote, with regents Lawrence Deitch and Denise Illitch dissenting.
Deitch spoke about his concern that the percentage of tuition hike was too high for Michigan residents. He said his concern was for the Michigan families that might not qualify for financial aid but are still not doing well enough to totally absorb the tuition hike.
He said the university should do all it can to help Michigan students ahead of out-of-state students.
"This is a vote that says, 'When in doubt, the benefit goes to Michigan people,'" he said.
Other regents supported the decision to raise tuition for a variety of reasons.
Regent Julia Darlow said the financial aid portion of the budget was appealing to her because families who are making $80,000 or less would pay less than in 2004 because total financial aid awarded would be a record $137 million.
She said Michigan students who are from families making less than $80,000 per year would be insulated from the tuition increase.
"Every student with need who has been getting aid will not be financially impacted by this increase, and will in fact be better of this year than in past years," she said.
Regent Andrea Newman said she supported the incrase in tuition to help fill the gap left by the decrease in state funding.
"The budget cuts passed by the legislature are impossible to make up otherwise," she said.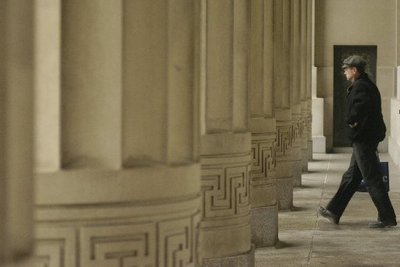 Eli Gurfinkel | The Ann Arbor News
THanlon said budget cuts will result in the closing of the
Center for Ethics in Public Life
and the downsizing of budgets for the
Substance Abuse Research Center
, the
Michigan Center for Theoretical Physics
, the
U-M Autism and Communication Disorders Center
among others.
"We've been asking every center and institute to give a description of their mission and how they measure success toward their mission and what metrics they use to evaluate that," he said. "We're looking at everyone very carefully. We're asking what are their most essential functions and whether those essential functions can be accomplished in some other way."
Despite the closings of centers and anticipated layoffs, approximately $9 million will be spent on faculty salary increases and promotions in 2011-12, and $8 million will be spent on staff salary increases and promotions. In addition, 150 new faculty positions will be added in 2011-12. Hanlon said the money for those positions was in the 2010-11 budget and will carry over to 2011-12.
Hanlon said he wasn't sure how many positions would be cut, but layoffs will be necessary. The numbers will be determined by each individual school and college at the university now that regents have approved the budget.
"We don't have an exact count of that because that part of the budget reduction is part of the reduction of unit budgets and we don't have the complete information of what they do at their end," he said.
Kyle Feldscher covers K-12 education for AnnArbor.com. He can be reached at kylefeldscher@annarbor.com or you can follow him on Twitter.