Posted on
Mon, Aug 20, 2012 : 4:56 p.m.
University of Michigan lauded for packed stadium, good libraries and a great hometown
By Kellie Woodhouse
Editor's note: This story has been edited to correct a reference to Big Ten schools named to the top party schools list.
If you've been to a Saturday football game against Ohio State or Notre Dame, it's probably not hard to believe that University of Michigan is credited with having one of the most student-packed stadiums in the nation.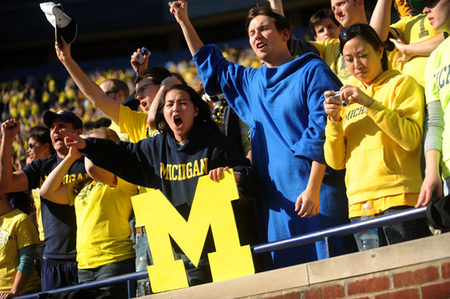 The Princeton Review
recently ranked U-M as having one the nation's most packed collegiate stadiums and one of the best student newspapers and library systems. The review also gave a hat tip to
Ann Arbor
, determining that U-M is nestled in one of the country's top college towns.
The Review's annual rankings rate everything from the level of partying to the level of religiosity at colleges throughout the nation. Many of the rankings are published online and in a book and are widely considered by prospective students looking for the right fit for them, either socially or academically.
Under the category "students pack stadiums," U-M was ranked ninth, behind rivals University of Notre Dame, which ranked first, and the University of Iowa.
The Review named Ann Arbor as the 10th best college town in the country.
The school's student newspaper, the Michigan Daily, was ranked 16th, behind the newspapers of Penn State University, the University of Wisconsin and the University of Maryland, among others.
U-M's libraries were named 19th-best, behind Wisconsin and Virginia's flagship university.
Interestingly, four Big Ten schools were named among the nation's top party schools, including the No. 2 ranked University of Iowa and No. 4 ranked University of Illinois. U-M was not ranked.
U-M was included in the Review's list of 377 best colleges and named one of the best value colleges and best schools in the Midwest.
Michigan State University also was named as one of the best schools in the Midwest. It was ranked No. 19 in the nation for having the "least accessible professors," according to the review.
Learn about the Review's methodology here.
Kellie Woodhouse covers higher education for AnnArbor.com. Reach her at kelliewoodhouse@annarbor.com or 734-623-4602 and follow her on twitter.