Posted on
Tue, Jan 31, 2012 : 2:59 p.m.
University of Michigan regent calls six-month lapse in reporting child porn 'extraordinarily disappointing'
By Kellie Woodhouse
"It can never happen again." That's the assessment of University of Michigan Regent Katherine White on the university's six-month lag in reporting child pornography found on a thumb drive in a hospital computer.
Police charged Stephen Jenson, 36, a medical resident at the U-M Heath System, with possessing child pornography on Dec. 17. He is accused of viewing child porn at a U-M hospital on a U-M computer.
Officials were first notified that a female medical resident found a thumb drive containing child porn and documents with Jenson's name in May, recently released court documents show. The woman's supervisor notified hospital security about the discovery, but hospital lawyers took ownership of the case and decided not to pursue it or report it to police.
The case resurfaced on Nov. 18 when a hospital security official brought it to the U-M Department of Public Safety's attention. U-M President Mary Sue Coleman and her administrators notified the Board of Regents shortly afterward.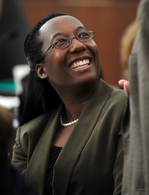 "Like any decent human being you're shocked and disappointed and you want to make sure it doesn't happen again," White said.
The university is conducting an internal review to determine how existing procedures failed and what new guidelines would be beneficial in future cases.
"They're working to correct the communication lines between the Department of Public Safety and the health security people and to make sure that the health general counsel's office does a better job in the future," White said, adding that employees still need to act when proper procedures aren't in place.
"We can write a lot of processes ... but if you don't have people who are going to implement best practices, it's not enough. You have to have people who are out there trying to do the right thing," she continued.
2012 Board of Regents candidate Mark Bernstein said that the university needs to go a step further and order an external review conducted by a private company to free itself from bias.
"This Jenson case is troubling," Bernstein offered, calling it "a very serious breech of the public trust."
"He had, allegedly, child pornographic images on a U-M computer and they do not report it to the ... police. That is shocking," said Bernstein, a lawyer. "It is shockingly bad judgment and one can only assume that there was an interest in protecting the institution ahead of other interests."
U-M spokesman Rick Fitzgerald said thus far no external review has been ordered.
Kellie Woodhouse covers higher education for AnnArbor.com. Reach her at kelliewoodhouse@annarbor.com or 734-623-4602 and follow her on twitter.