Posted on
Thu, Nov 17, 2011 : 7:12 p.m.
University of Michigan Regents knock formula funding model in Lansing
By Kellie Woodhouse
The University of Michigan Board of Regents criticized Gov. Rick Sndyer's 'formula funding' model for higher education at their meeting on Thursday.
"This is a pretty dangerous area to get into and this business of turning it into a cookie cutter approach… just seems like a disturbing development to me," said Regent S. Martin Taylor.
Beginning with the 2013 fiscal year, Snyder plans to begin allocating university funding based on a formula that "will encourage universities to graduate a highly educated workforce in a timely manner and conduct research that contributes to the overall economic strategy for Michigan," according to the governor's office.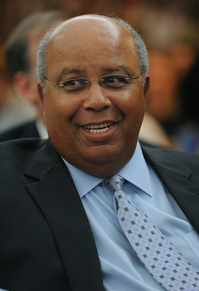 Lon Horwedel | AnnArbor.com
The formula will judge schools' success and funding allocations based on yet-to-be-established performance indicators. A limited formula was used last year when state officials cut funding between 17 and 18 percent for universities that did not practice tuition restraint, compared to about 15 percent for universities that did.
The formula is still being developed and state officials have asked for suggestions from Michigan's 15 public universities.
At their meeting Thursday, the regents discussed a letter U-M President Mary Sue Coleman and her staff wrote to state budget director John E. Nixon regarding suggestions in developing the formula.
The letter needs regents' approval before it can be officially submitted to the state.
Coleman and several other university presidents in Michigan have been outspoken opponents of formula funding, publicly saying that it is not a viable solution to allocating funding in the midst of a difficult economic climate.
That concern was echoed on Thursday.
"I don't know of any state that has found some magic solution with formula funding," Coleman said.
U-M Provost Philip J. Hanlon said formula funding is not a good higher education funding model because "the 15 public universities in the state of Michigan have very different missions and contribute in different ways."
Taylor criticized Coleman and her staff for not noting that U-M administrators are opposed to formula funding in the letter to Nixon.
"It seems to me that we weren't making a really good argument that… this is not the way to go," Taylor said. "To not say this isn't a good idea doesn't seem to be very smart."
The regents voted to approve the letter as long as it was amended to note U-M's opposition to formula funding.
Kellie Woodhouse covers higher education for AnnArbor.com. Reach her at kelliewoodhouse@annarbor.com or 734-623-4602 and follow her on twitter.