Posted on
Sun, Feb 19, 2012 : 1:57 p.m.
University of Michigan student hikes tallest mountain in Americas with self-made tent
By Kellie Woodhouse
At 9:26 p.m.on Feb. 12, Andrew McCarthy was sitting in Miami International Airport waiting for a flight to Argentina when he texted his professor.
"Time to put this tent to the test," he wrote.
University of Michigan architecture instructor Shaun Jackson pondered the text that evening, thinking that McCarthy's brief spell in the airport was probably the first time in weeks his pupil had a chance to rest.
McCarthy was en route to Aconcagua in South America's Andes Mountains. At 22,841 feet, it's the highest peak in North or South America. With him was a 60-pound backpack containing, among other survival necessities, a tent.
That tent, despite appearances, wasn't purchased from Patagonia or North Face or any other popular outdoor retailer.
Instead, it was designed and constructed entirely by McCarthy as a part of his graduate thesis.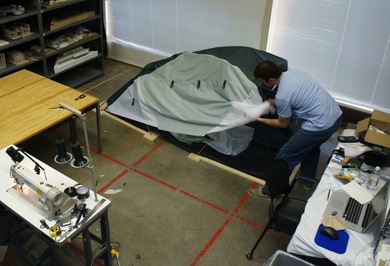 Photo courtesy of Andrew McCarthy
Unlike other student theses, which live only on paper, McCarthy is using his creation during a 24-day climb through unpredictable weather conditions to the top of the Western Hemisphere's tallest mountain.
"This is very serious business," said Jackson. "It's a very high mountain and this is potential life and death."
McCarthy's graduate thesis focuses on extreme climate conditions and nomadic architecture.
In his blog, McCarthy explains that his summit of Aconagua is a real-life exploration and application of his architecture studies.
"Architects should become explorers of new possibilities," McCarthy wrote. "This is a practice that requires the architect puts (sic) their shelter on their back and travels to the unknown."
McCarthy's thesis, coupled with a love of hiking —he's also summited Tanzania's Mt. Kilimanjaro, the world's second-highest summit,—led him to approach Jackson in January with his plan to design and construct a tent so it could be ready for his Aconcagua summit the next month.
Jackson was stunned.
He was even more doubtful when he learned that McCarthy did not know how to sew, an essential skill when putting together a tent made from fabric.
"I was incredulous," he recalls. "Incredulous that he would finish it, let alone finish it as well as he did."
But McCarthy, working weekends and late nights, managed to finish his project the evening before he began his trip.
"The tent is complete with 17 hours to spare before departure to South America," McCarthy wrote. "Time to eat, sleep and prepare for the next phase of work to be done."
Photo courtesy of Andrew McCarthy
McCarthy hand sew the inner and outer layers with a rip-stop nylon fabric. Each piece of fabric was carefully measured to achieve the right amount of tension and stretch so the tent could withstand high winds.
He tested a half-sized model in an engineering wind tunnel and the structure withstood 120-mile-per-hour winds, but the fabric began ripping under the pressure of 80 mile-per-hour winds. McCarthy made some changes to the final tent design and construction, but he will be forced to share space with another hiker if his tent fails during the trek.
High winds are an ever-real possibility at Aconcagua, which —like most tall mountains— is known for unpredictable weather. In 2010, five hikers died summiting Aconagua.
"The thing with mountains and mountaineering is you absolutely never know what the weather is going to be like," said Jackson, whose firm has designed outdoor equipment for L.L. Bean, Patagonia and Eddie Bauer.
"They could be faced with weather conditions that are ideal, where there is not high sustained winds," he continued. "Or, on the other hand, mountains are notorious for micro-climates and out of the blue you could end up with incredibly strong, powerful storms... that keep you in your tent for days."
The extreme climates, Jackson says, also come with an extreme reward.
"It's seldom if ever that a student of architecture gets to actually execute and experience the results of their design work full scale," he offered. "He is, in some ways, putting his life on the line to do so."
Kellie Woodhouse covers higher education for AnnArbor.com. Reach her at kelliewoodhouse@annarbor.com or 734-623-4602 and follow her on twitter.