Posted on
Wed, Apr 7, 2010 : 6:03 a.m.
University of Michigan's first openly gay student body president ready to get to work
By James Dickson
Chris Armstrong never thought he'd see the day.
Armstrong, the newly-elected student body president at the University of Michigan, thought his MForward party had campaigned hard, and effectively, when the student government election began in earnest after spring break.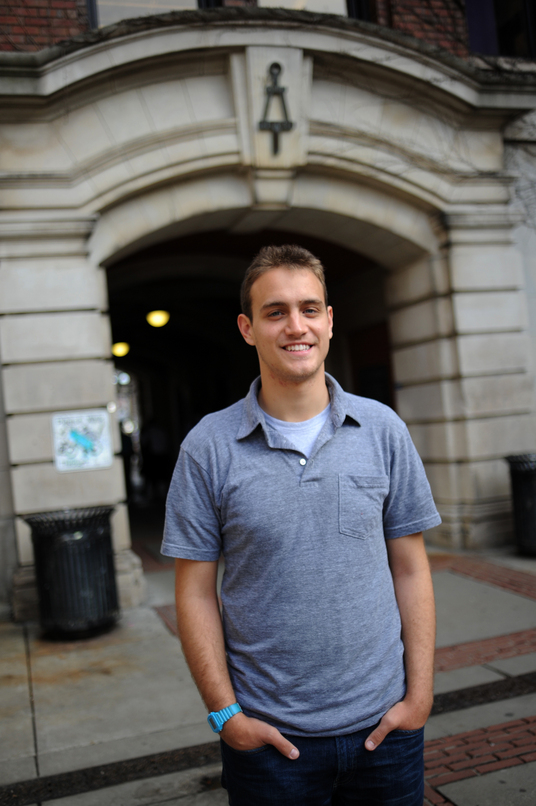 Melanie Maxwell | AnnArbor.com
"You try to put your best foot forward," Armstrong said, "but it wasn't until the returns started coming back that we thought, 'Hey, it looks like our work paid off.'"
Not only did MForward send all 17 of its candidates to office, it ushered in a new era in U-M history. Armstrong is the first openly gay student body president the university has known.
The rising senior, a native of Ridgefield, Conn., got involved in the campus gay and lesbian community after arriving in Ann Arbor three years ago. He was a two-year chair of the student government's LGBT Commission before running for the presidency of the Michigan Student Assembly.
Gabe Javier, head of the Spectrum Center at the U-M, became a mentor to Armstrong after the two met at a Spectrum icebreaker when Armstrong was a freshman. Javier said he's expecting big things from Armstrong as president. Armstrong was sworn-in in late March.
"Chris is going to represent the entire student body, not just the LGBT community," Javier said. "What this will show students at U-M is that they can be 'out' and still be embraced by the larger community."
Armstrong said he hopes his victory will show prospective students or incoming freshmen that anyone, from any background, can embody the Michigan spirit.
The MForward party was a coalition of campus politicos, various volunteer groups, and the LGBT community. Even the fraternities and student athletes played a part in the victory.
Armstrong understands what the milestone means for the gay and lesbian community, but said he'll ultimately be judged by what he does for students in the here-and-now.
Armstrong cited two major goals: To establish plans for Saturday night meals at residence halls, and a gender-neutral option in university housing.
"Every incoming president says they'll make student government relevant again," Armstrong said, "but the only way is to do things that actually affect students."
Saturday night meals, Armstrong said, might make weekends less costly for young students who don't have other dining options. Armstrong said he'll also lobby for a Good Samaritan Law in Michigan that will allow underage drinkers to call an ambulance for incapacitated friends without legal penalty.
And the time has come for gender-neutral housing, Armstrong said.
Jeffrey Chang, a Rutgers Law School student who co-chairs the National Student Genderblind Campaign, said the gender-neutral housing movement has national momentum.
"At first it was only the small liberal arts colleges that had it," Chang said, "but now we're seeing it at research universities - the University of Pennsylvania, Stanford, many others."
Chang said only a small percentage of students who are offered gender-neutral housing actually take advantage of it, but students should have the option to live with whomever they prefer.
Peter Logan, a spokesman for the U-M Housing Information Office, said the push for gender-neutral housing began long before 2010. U-M's gender-neutral housing is only available to transgender students, and even then, only on request.
"We started that long before 2010," Logan said, "but it'll certainly be something we discuss more."Â 
Logan said students have largely led the effort. Recently, the U-M Residence Halls Association sent a survey on gender-neutral housing to the student body. A total of 67 percent of students supported gender-neutral housing, in principle. 
Caitlin Sadler, president of the Residence Halls Association, said full-blown gender neutral housing would take time to achieve but she expected progress over the next year.
The university assigns transgender students based on their birth gender. "A transgender student must wait until surgery is complete before seeking a room reassignment," the university housing page explains.
That, Armstrong said, is the problem: Students shouldn't be required to disclose their sexuality or sexual identity to the university. Better to allow students to choose for themselves what living arrangement works best.
"We're all mature adults," Armstrong said. "And the university should treat us that way."
James David Dickson can be reached at JamesDickson@AnnArbor.com.