Posted on
Sat, Jan 21, 2012 : 5:52 a.m.
University of Michigan students have long history of rallying
By Kellie Woodhouse
This week hundreds of protesters descended on Gov. Rick Synder's neighborhood to protest his emergency manager law.
At a December University of Michigan Board of Regents meeting, protestors from the Occupy Ann Arbor and Occupy U-M movement interrupted proceedings. Those same protestors rallied against the economy at an Eric Cantor speech outside the Michigan League in October.
In September, another regents meeting was the scene of a U-M Professional Nurses Council protest over negotiations with the university.
In short, it's been a protest-heavy couple of months.
Protests, however, have a long history in Ann Arbor and U-M. We sifted through some photo archives and picked a few images of past rallies.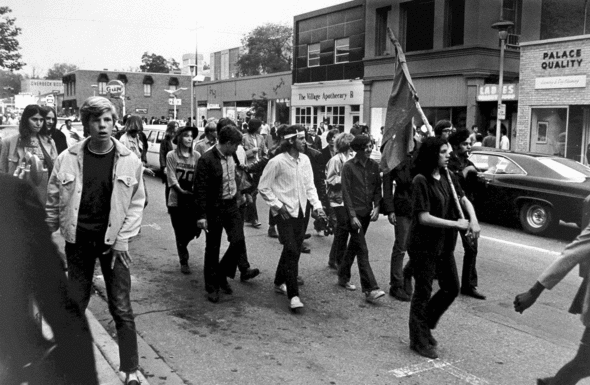 The John and Leni Sinclair Collection at the Bentley Historical Library
More than 1,000 U-M students and local Ann Arbor residents marched down South University on a June evening in 1969. The students camped out in an area of South University, turning it into a 'People's Park,' but on the third night police officers responded to rock-throwing by using tear gas and nightsticks, according to an Ann Arbor News article.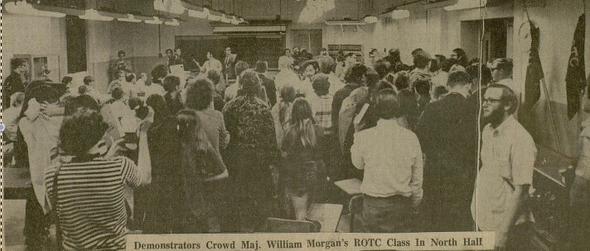 Ann Arbor News
In this September 1969 image, about 70 U-M students interrupted two ROTC classes at the university in protest, but left when ordered to do so by a professor. According to an Ann Arbor News article, Robben Fleming, U-M president at the time, threatened to take criminal actions against students if the disruptions continued.
Ann Arbor News
In this July 4, 2003, photo, University of Michigan students carry a large dove to symbolize their desire for peace.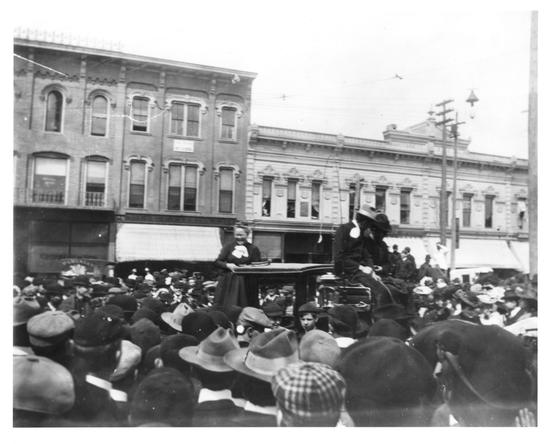 In this Ann Arbor News photo, hundreds of U-M students showed up to protest a speech, given at State Street and North University, by prohibitionist Carrie Nation in 1902.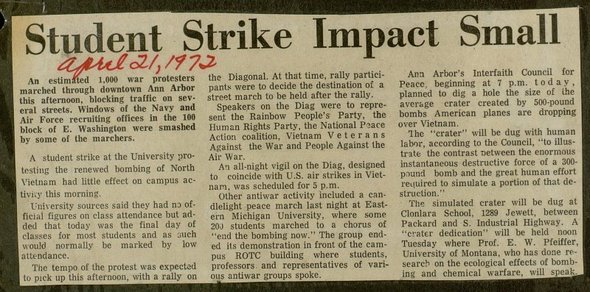 Ann Arbor News
This April 21, 1972 Ann Arbor News clipping outlines one of many protests and rallies held by U-M students objecting to the war.
An earlier version of this article incorrectly identified the origin of the first photo. It is from the John and Leni Sinclair Collection at the Bentley Historical Library.
Kellie Woodhouse covers higher education for AnnArbor.com. Reach her at kelliewoodhouse@annarbor.com or 734-623-4602 and follow her on twitter.