Posted on
Thu, Jan 26, 2012 : 2:57 p.m.
Obama mania? U-M students consider level of excitement before president's speech Friday
By Kellie Woodhouse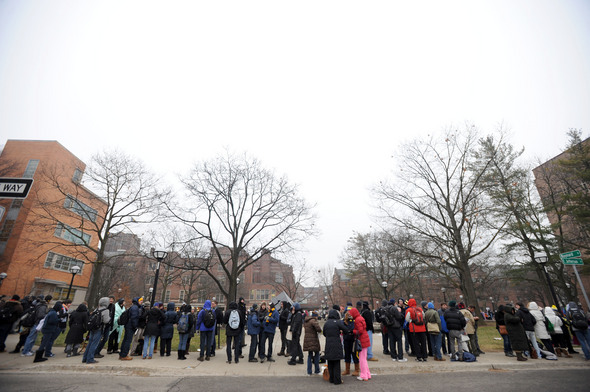 Angela J. Cesere | AnnArbor.com
Roughly 3,000 people Thursday morning received tickets to President Barack Obama's upcoming speech —many camping outside overnight to secure their place in line— and still hundreds of hopefuls were turned away.
It's clear: Obama mania has seeped into the University of Michigan campus as the school prepares for his speech on college affordability Friday at 9:35 a.m. at the Al Glick Field House.
Many students standing in line and roaming around campus lived here in 2010 when Obama was the spring commencement speaker, and we asked them how this month's impromptu visit compares with the last time the president and his entourage descended upon Ann Arbor.
"There's been a lot of talk on campus. In all my classes students have been talking about if they're going to go get tickets and professors are talking about it in class," said senior political science and American culture major Amanda Caldwell, president of the U-M College Democrats. "But to have a sitting president come and give a commencement speech is very different than what he's doing now."
Official word about the president's visit wasn't widely issued by U-M until Tuesday morning and even then students said it took a while for word to spread.
"There were murmurs of it at first but then when people started really finding out that he's coming excitement went up quick," said freshman Brendan Harnos.
Junior Hannah Heebner, who attended Obama's 2010 commencement speech, agreed.
"It was kind of like a slow burn at first," she said.
Angela J. Cesere | AnnArbor.com
"I remember thinking it was so awesome to see him," Heebner said of the commencement speech. "Last time it was in the Big House there were a lot more people, but with only 3,000 tickets this time around, people are a lot more dedicated to getting in."
With short notice, a limited audience and a time slot that's in the middle of the semester -factors that didn't exist during May 2010— some students say the buzz hasn't quite reached the level it did before Obama's commencement speech.
"Last time he came it was for graduation, so it was a little bit different," said senior Tyler Leppek. "There was excitement for our friends who were graduating but also to experience Obama."
"This visit, it kind of popped out of nowhere and I think a lot of students didn't know ... at first," he continued.
Doctoral student Hope Thompson, who was a senior in college in 2008 when Obama was first elected, said she supports the president but couldn't devote the time to standing in line for tickets.
"Between class and work for me I just didn't really consider going because it was going to be such a commitment," she said.
Emily Beam, a doctoral student at the public policy school, said there's been an overall waning of excitement about Obama among youths since he was elected in 2008.
"The sentiment here on campus in 2008 was very different because there wasn't any reality to check it against. Obama represented an end to the eight years of Bush," she said. "Whether it's because of his performance or his trouble in Congress or unrealistic expectations, people aren't as excited."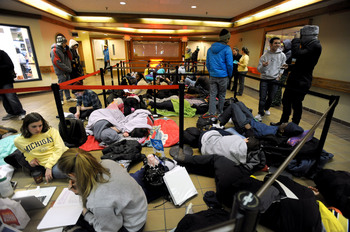 Angela J. Cesere | AnnArbor.com
Caroline Meehan, a masters student in the social work and public policy schools, said the excitement surrounding Obama's 2008 bid "is going to be hard to match."
She said the hype regarding the president's Friday speech hasn't quite reached the level she expected.
"It's been more subdued excitement," Meehan explained.
Meehan and Beam's thoughts are echoed by a December Harvard University poll that reported that most young voters —or 36 percent of respondents— think Obama will lose next year. Thirty percent of respondents guessed he'd win in November.
University of Michigan graduate student Kate Ditzler went door-to-door campaigning for Barack Obama in 2008.
The Canton native and masters student at the Gerald R. Ford School of Public Policy remembers that period as one of unfading excitement, limitless possibilities and unceasing work.
Ditzler says she's still as committed to supporting the Obama's 2012 bid for re-election as she was in 2008, but she's unsure if that's the sentiment felt by the majority of the student population, which is widely credited for bringing Obama success in his original election bid.
"Unfortunately I think a lot of people don't understand the way politics work," Ditzler said. "He wants to do everything, but there are regulations to write and a Congress to corral and I think that a lot of the enthusiasm for something new and different is gone from Obama's campaign."
"I'm hoping people will use their college brains instead of their emotional political ones," she continued.
Caldwell, the U-M senior, says Obama hasn't lost his relevance among young people.
"Republicans... haven't done anything to get young people's support. "I think Obama will have just as much support from young people as before."
Kellie Woodhouse covers higher education for AnnArbor.com. Reach her at kelliewoodhouse@annarbor.com or 734-623-4602 and follow her on twitter.