Posted on
Mon, Feb 20, 2012 : 6:33 p.m.
University of Michigan students can expect a 'moderate' tuition hike next fall
By Kellie Woodhouse
University of Michigan students can expect another tuition increase this fall, a top-ranking school official warned a group of faculty members Monday.
That increase, however, will be less severe than the 6.7 percent hike students experienced in 2011-2012.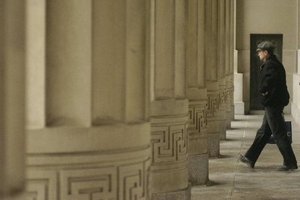 "There will have to be tution increases," U-M Provost
Philip Hanlon
told the Faculty Senate Advisory Committee on University Affairs. "Every year our costs are going up."
Hanlon said U-M's "mandatory costs" rose roughly $10 million last year. At the same time, state support has dipped in recent years. U-M lost $47.5 million state dollars in 2011-2012 and will see an approximate 1.4 percent gain in state support next year.
"We have cost rivers we can't even control," Hanlon said, explaining that this year's increase "will be much more moderate" than the 6.7 percent hike students recently experienced.
Hanlon did not offer an estimate of the increase.
He also said that it's unlikely the university will freeze tuition or rollback tuition cost in the near future.
"That would be very damaging to the university," he said of a rollback. "It would be very difficult for us to handle that."
Tuition increases must be approved by the U-M Board of Regents. Changes in tuition rates are traditionally discussed at the board's June meeting.
Hanlon said that minimal state support and rising costs will affect other university operations as well. The school has saved about $400 million in health care and administrative costs by cutting back offerings and streamlining administrative offices.
The university will begin looking at poor-performing components of its academic enterprise as it makes further cuts, Hanlon said.
"We are going to have to impact the academic enterprise more than we have in the past, just because the low hanging fruit is gone at this point," Hanlon said, explaining that already in the past year the university has shuttered six of its centers and institutes.
Kellie Woodhouse covers higher education for AnnArbor.com. Reach her at kelliewoodhouse@annarbor.com or 734-623-4602 and follow her on twitter.