Posted on
Tue, Apr 10, 2012 : 3:28 p.m.
Hundreds of U-M students plan march in protest of Trayvon Martin shooting and Michigan law
By Kellie Woodhouse
Student organizers are trying to mobilize more than 500 hoodie-wearing students to march across the University of Michigan's Ann Arbor campus Tuesday evening to pay tribute to Trayvon Martin and rally to repeal Michigan's "Stand Your Ground" law.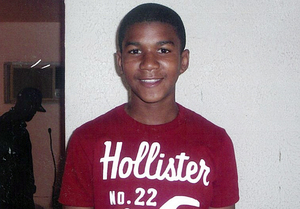 Photo courtesy of Martin Family
"There's a general feeling of frustration and helplessness" on campus, said U-M junior history major Yonah Lieberman, who is helping organize the march. "This march is a way to say we are taking a stand, we are doing something. We are just just going to wallow in the sadness that we have, we are going to take a stand for justice."
Seventeen-year-old Martin was shot to death by neighborhood watch patroller George Zimmerman in Florida in late February. Zimmerman claims he shot Martin, an African American wearing a hoodie in a gated community, because he was acting suspiciously and confronted Zimmerman after the watchman began following him.
Police originally said Zimmerman was protected under Florida's "Stand Your Ground" law, which allows individuals to use fatal self defense when they feel they are being threatened, although Zimmerman's case has received a litany of media scrutiny and is now being reviewed by prosecutors.
The case has led to a national conversation on racism and whether self-defense laws encourage racial profiling.
That's exactly how protest organizer and third-year political science doctoral student Vanessa Cruz feels.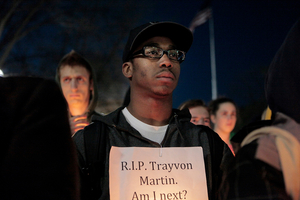 "Students have talked about this case. They've talked about the overall sadness caused by how much more likely people of color are to be victims of these self defense laws," said Cruz. "It basically makes them feel that those lives, and their lives if they're people of color, are worthless."
A crowd of U-M students gathered on the Diag March 26 to show support for Martin.
Cruz and hundreds of other U-M students now say they want to repeal Michigan's own "Stand Your Ground" law. The protest "gives students a way to funnel some of their energy and symbolic solidarity over the loss of Trayvon and other people who have lost their lives due to racial profiling," Cruz said.
Added Lieberman: "People have definitely noticed this case. People who frankly don't know that much about modern-day racism even recognize that this is wrong."
In addition to a U-M turnout, Cruz expects students from Washtenaw Community College, Eastern Michigan University, Michigan State University and Ohio State University to turn out for today's march.
Students will be marching down State Street and South University Avenue starting at 6 p.m. today. The march will be followed by an 8 p.m. candlelight vigil for Martin on the Diag.
Kellie Woodhouse covers higher education for AnnArbor.com. Reach her at kelliewoodhouse@annarbor.com or 734-623-4602 and follow her on twitter.