Posted on
Tue, Apr 24, 2012 : 1:50 p.m.
University of Michigan study finds feminine scientists unlikely to motivate girls
By Kellie Woodhouse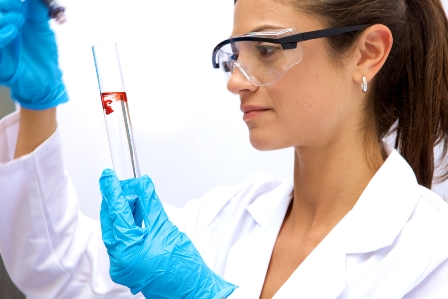 dreamstime
It happened when
Hilary Clinton
announced her bid for president. It's likely happened to
Mary Sue Coleman
, the
University of Michigan
's first female president, as she carries out her administrative duties and, according to a new study, it will probably happen to most successful and feminine leaders in the science and engineering fields.
No matter how quickly they can dissect the quantum theory, women are often judged by how they dress and how feminine they appear.
And according to a series of U-M studies, the judging starts early— as early as sixth and seventh grade.
Researchers found that middle school-aged girls signaled little interest in science, technology, engineering and math when presented with successful female role models who specialized in those fields and displayed feminine characteristics, such as wearing makeup and dressing in pink clothing.
By contrast, successful female scientists portrayed in a gender neutral manner —wearing glasses, dressing in dark clothing and reading— had a greater motivational effect on the students, the study found.
The study interviewed 144 female middle schoolers and found that most girls presented with feminine role models in the science and math fields reported a decrease in interest and ability in those fields.
Another study surveyed 42 young female students who said they didn't like math and found that these students were also least motivated by feminine scientists and engineers.
Why?
Researchers believe that excelling in both things —science and femininity— seemed unattainable to many youngsters, causing them to feel threatened rather than motivated.
"Rather than opening these girls' minds to new possibilities, the feminine (science and math) role model seemed to shut them further," said Denise Sekaquaptewa, U-M researcher and professor of psychology.
The researchers say their findings stretch beyond gender perception and tap into how young individuals can more easily stomach role models that counter one stereotype (a female excelling in math) rather than two competing ones (a female excelling in math and displaying feminine qualities).
Kellie Woodhouse covers higher education for AnnArbor.com. Reach her at kelliewoodhouse@annarbor.com or 734-623-4602 and follow her on twitter.