Posted on
Tue, Jan 24, 2012 : 2:59 p.m.
Obama in Ann Arbor: College affordability theme will resonate with University of Michigan students
By Kellie Woodhouse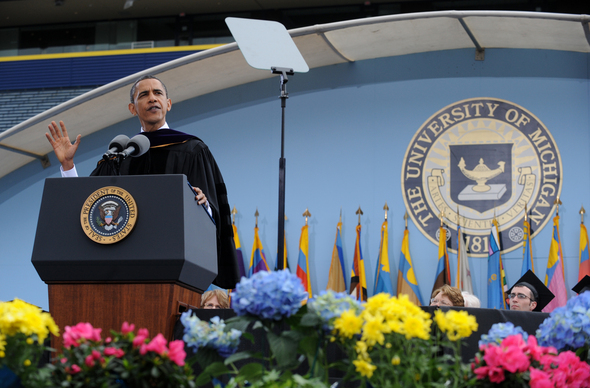 Melanie Maxwell | AnnArbor.com
As President Barack Obama prepares for his State of the Union speech tonight, University of Michigan students are anticipating not what he'll say in a few hours, but what he'll say on Friday morning as he addresses rising college costs at one of the most expensive public universities in the nation.
On Friday at 9:35 a.m. Obama will speak about college affordability before a crowd at the Al Glick Field House on U-M's South Campus in Ann Arbor.
"It's a big issue. A college education is getting much more expensive than it used to be, so finding some way to address it now and stop it from increasing even more would be really helpful," said cognitive psychology graduate student Sara Festini, who is from California. "Because college education is invaluable to the progress of our country."
Like Michigan, Festini's home state has seen a large disinvestment in public universities and in-state tuition at the state's flagship universities, the University of California at Berkley and at Los Angeles, is more costly than tuition at U-M. The cost of U-M's tuition outpaces that of the University of Virginia and the University of North Carolina, two prestigious public universities. A recent analysis by the Center for Michigan asserts that Michigan's public universities are among the most expensive in the nation.
For MariTi Lovell, a junior psychology major from New York, the cost of tuition isn't just a statistic, it's personal. Even though she's worked diligently with the school's scholarship and financial aid offices, Lovell will graduate with a debt pushing $20,000, she said.
Tuition for an out-of-state student at U-M is $37,265 per year, one of the highest rates for outsiders at a public institution.
"I'm hoping to keep it below $20,000, but it's already a lot more than I expected when I first came," she said of her mounting loans.
"I can see why (Obama) would come here. I'm an out-of-state student so tuition is really expensive," Lovell said. "It's a public university and tuition is so high, if he's going to speak anywhere then here is probably the best place."
Obama has been subtly leading a conversation on college affordability over the past two months. On Dec. 5, he invited the presidents of several public universities and university systems to discuss ways to stem college costs and incentivize state investment in higher education.
U-M President Mary Sue Coleman, who was invited to the forum but did not attend, sent Obama an open letter urging him to address college affordability on Dec. 16.
"The cost of attending college is one of the most serious matters facing a country that seeks to strengthen its global competitiveness," she said. "How we resolve this dilemma requires collaboration, sacrifice and hard choices."
U-M this year raised tuition 6.7 percent. It also saw a $47.5 million drop in state funding. The state now funds about 17 percent of the school's general fund, a record low.
The public is "more concerned than I've heard about possibly in my career" about the cost of education, Coleman said. "Michigan has been one of the most difficult (cases of decreased funding), but it's happening everywhere."
Michigan native and U-M senior Katie Russ is sharing her $14,240 tuition cost with her family by taking out loans. U-M estimates the annual cost for an in-state junior or senior to attend its Ann Arbor campus is $26,810. That estimate includes room and board, books and other incidental expenses.
"It's kind of a paradox because they keep talking about college affordability, yet when you're a junior and senior undergrad, your tuition increases," she said. Tuition for upperclassmen increases $898 per year for in-state students and $1,908 per year for out-of-state students.
Russ said she's skeptical about whether Obama's speech will lead to the policy changes necessary to ensure a more affordable public education.
"I appreciate their effort to make it cheap, but they still have a long way to go," Russ said. "I think it's more a political tactic to say, 'Oh, hey we need to do this,' but I don't know how well they actually are addressing the issue."
"They need to do a lot more," she continued. "The track that we're on right now ... is ridiculous."
Joel Kwon, a Utah native and U-M senior majoring in economics, said that by the time he graduates in May he will have amassed more than $40,000 in student loans. That debt, he said, pales in comparison to the debt many of his friends have accrued.
"It can be a burden to families," he said.
Mackenzie Cendrowski, a freshman from California, said that while the cost of tuition didn't deter her from choosing U-M, it's exactly that: a burden.
The university estimates it costs an out-of-state freshman and sophomore $50,352 to attend the university each year and $53,006 for upperclassmen.
"It's more than $200,000," Cendrowski said. "It's very expensive to go here. It's a little daunting."
Coleman said Monday that the university has attempted to keep cost increases sustainable, calling "our tuition increase modest." She noted that Penn State, the University of Illinois and the University of Minnesota all have in-state tuition rates higher than the U-M rate.
Yet as she outlined what she considers U-M's successes in reducing costs in the midst of state disinvestment —$400 million in administrative cost cuts largely due to employee benefit changes, the decrease in faculty positions funded through the school's general fund and a renewed emphasis on scholarship— Coleman acknowledged the difficulty high college costs places on students and their families.
"We've had to adjust to the reality of our situation," she said.
Kellie Woodhouse covers higher education for AnnArbor.com. Reach her at kelliewoodhouse@annarbor.com or 734-623-4602 and follow her on twitter.