Posted on
Thu, Sep 8, 2011 : 3:47 p.m.
U.S. Secretary of Education calls U-M School of Education a "model"
By Kellie Woodhouse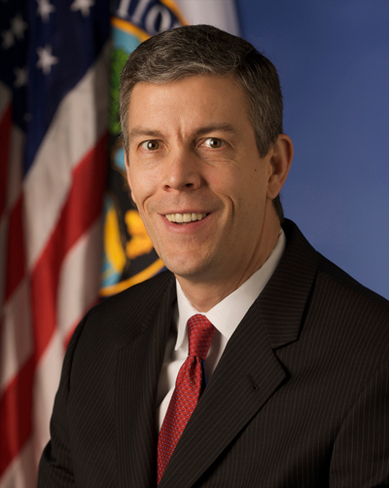 U.S. Secretary of Education Arne Duncan praised the University of Michigan School of Education today for being a national model by "reinventing" how education is taught in college.
"The model you guys are continuing to establish and adjust here has extraordinary national implications," Duncan said at a panel discussion on Thursday at the School of Education.
Five years ago, the school began changing its curriculum to include more practical applications and field training, and it reduced emphasis on book reading, an overhaul that Duncan says more universities should model.
"We decided teacher education consisted too much of reading about schools," said Deborah Loewenberg Ball, dean of the School of Education. "You can't learn to teach by reading. The curriculum needed to be much more about practice."
The panel, which included Duncan, Ball, five professors, a student and Dedrick Martin, superintendent of Ypsilanti Public Schools, discussed the importance of better equipping new teachers and retaining career educators.
Since becoming secretary of education in January 2009, Duncan has criticized universities and colleges throughout the nation for not adequately preparing educators. U-M, he said at the panel discussion, is one of a handful of schools that is trying to break the mold and emphasize hands-on learning.
"Most of these young teachers don't feel they are prepared going into the classroom," Duncan said.
"They got a lot of theory of education, a lot of history of education, a lot of philosophy, but not enough of actually teaching kids," he continued. "They've had professors who have, frankly, been out of the classroom too long."
Duncan said that about 64 percent of recently graduated educators feel that they are unprepared for the demands of teaching and managing a classroom.
"It's amazing to me how often we've done things a certain way for 10, 20 years and we haven't adjusted," Duncan said.
But adjustments aren't always easy to make, Ball said during an interview after the panel discussion. Her staff is creating a blueprint for other universities that are interested to switching to a more action-based curriculum.
"Every program shouldn't have to come from scratch," Ball said. "To take five years, that's a long time."
Ball said that she wants to further modify the School of Education by creating mid--program exit requirements. If a student can't pass an assessment repeatedly, they "wont advance to the second stage of the program. They'll be gone," she said.
Students shouldn't "exit the program until they know these things," Ball said. "We wouldn't say 'Here, have a plane and if you don't crash too many planes in the next few years, the we'll give you your pilot's license."
Ball said she is hopeful the school will adopt exit requirements "within the next few years."
With the new curriculum, students work with classrooms starting in their first year in the program.
For example, students in the secondary education tract spend their first semester traveling in groups of four to three schools, spending four weeks at a time in both urban and suburban settings. In the second semester, they travel to two schools, including one exurban middle school and one independent school. Starting in the third semester, students have a more typical student teaching experience where they stay at one school throughout the semester.
The school has ongoing relationships with the Ann Arbor and Detroit school districts and the same teachers in those districts repeatedly work with U-M students, Ball said.
Additionally, the new curriculum includes role-playing to help students with classroom management.
During the discussion, panelists called for a more cohesive approach to teaching educators, saying that standards for educators and students should be level throughout the nation.
"Teacher education should be more systemic, less fragmented and more intensive," said David K. Cohen, a professor with the schools of education and public policy.
Duncan also said that teacher salaries need a substantial boost to make teaching a desirable profession among college students. He said that starting salaries need to be doubled and that career teachers should make between $130,000 and $140,000 annually.
"The value proposition that were offering to this next generation just doesn't work," Duncan said.
Kellie Woodhouse covers higher education for AnnArbor.com. Reach her at kelliewoodhouse@annarbor.com or 734-623-4602.