Posted on
Wed, Jun 26, 2013 : 10:07 a.m.
U.S. Supreme Court strikes down Defense of Marriage Act in landmark rights case
By Amy Biolchini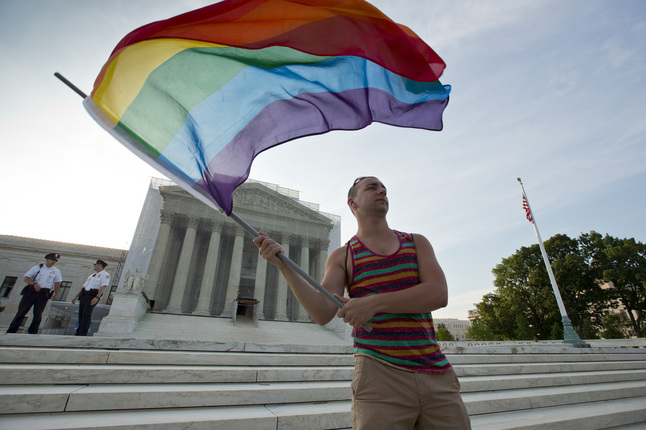 J. Scott Applewhite | AP Photo
Editor's note: This story was updated at 10:45 a.m. with the court's decision on Proposition 8.
In a series of landmark decisions, the U.S. Supreme Court struck down the 1996 federal Defense of Marriage Act and cleared the way for gay marriage in California Wednesday morning.
The 5-4 decision found the act unconstitutional as a violation of the Fifth Amendment.
"DOMA singles out a class of persons deemed by a State entitled to recognition and protection to enhance their own liberty," according to the written opinion from the court.
DOMA denies federal benefits to gay and lesbian couples in states that allow same-sex unions.
Twelve states and the District of Columbia have adopted same-sex marriage.
Justice Anthony Kennedy delivered the opinion of the court, and was joined by the court's four liberal justices for the majority: Ruth Bader Ginsburg, Stephen Breyer, Sonia Sotomayor and Elena Kagan. Dissenting were Chief Justice John Roberts and justices Antonin Scalia, Clarence Thomas and Samuel Alito.
"Under DOMA, same-sex married couples have their lives burdened, by reason of government decree, in visible and public ways," said Kennedy, the Associated Press reported. "DOMA's principal effect is to identify a subset of state-sanctioned marriages and make them unequal."
Scalia, who read his dissent aloud, stated that the court should not have decided the case, the Associated Press reported.
It's the first of two major same-sex marriage cases the high court announced Wednesday -- the other on California's Proposition 8 -- the state's constitutional ban on same-sex marriage.
In a 5-4 decision, the Supreme Court cleared the way for same-sex marriage in California by overruling lower appeals court decisions and holding to the initial trial court declaration that the ban is unconstitutional. The ruling deferred to the lower court on a legal technicality and did not make a statement about same-sex marriage as a practice.
On Proposition 8, Chief Justice Roberts wrote the majority opinion, and was joined by Justices Ginsburg, Breyer, Kagan and Scalia, the Associated Press reported.
This story will be updated.
Amy Biolchini covers Washtenaw County, health and environmental issues for AnnArbor.com. Reach her at (734) 623-2552, amybiolchini@annarbor.com or on Twitter.