Posted on
Fri, Jan 22, 2010 : 10:02 a.m.
Verna McDaniel appears next in line to become Washtenaw County's top administrator
By Ryan J. Stanton
The one and only candidate interviewed for the Washtenaw County administrator job Thursday night needed no introduction when she appeared before commissioners.
Verna McDaniel, who has been employed with the county since 1982 and currently serves as deputy administrator, says she's humbled to be considered for the position. If hired, she said she'll use her experience to work to address the challenges facing Washtenaw County.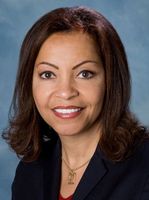 Rolland Sizemore Jr., D-5th District and chairman of the Washtenaw County Board of Commissioners, said he's feeling good about the prospect of McDaniel becoming the county's next top leader.
"I can't speak for the board, but as far as I'm concerned, she will be getting my vote. I think she's a great asset to this community," he said. "She knows the players - that's the main thing, because we've got a lot of work ahead of us and there's going to be some turnover in the board. We don't need to have somebody come in that doesn't know who the players are."
McDaniel, 58, was named deputy administrator in 2007 by County Administrator Bob Guenzel, who will be retiring in May. He'll likely pass the torch to McDaniel, pending approval by the board of commissioners on Feb. 3.
McDaniel's current annual salary is $144,234. Guenzel earns $159,424 annually. The salary range for the position upon Guenzel's retirement has not yet been determined.
Before considering outside candidates, commissioners decided to look within the organization for a new county administrator, and McDaniel was the only internal candidate to apply.
As deputy administrator for the last few years, McDaniel has served the role of the county's chief operations officer - directing and managing 35 departments with 1,400 employees and a $200 million annual budget serving 340,000 residents.
McDaniel says her official duties have kept her working closely with each department to implement budget and personnel reductions due to declining revenues. She cites her role as a key bargaining team member that successfully negotiated millions of dollars in concessions with the majority of the county's labor groups this past year to close a substantial budget gap for 2010 and 2011.
"I am proud to work for this county and feel that it is truly a world class operation," she told Sizemore in a Jan. 15 letter. "We have faced a very challenging 2010-11 budget process but rose to the occasion with the help of our leadership and most impressive, our employees. It will be crucial for us to navigate the waters carefully monitoring our revenues and expenditures as well determining our future. I feel ready for these challenges and hope that you allow me the opportunity to lead our organization to a progressive and fiscally stable future."
McDaniel has been employed in the public sector for more than 35 years. Most of her 28 years with the county were spent as human resources director - a role in which she says she used technology and best business practices to make the county a model of excellent customer service and a great place to work. She authored the county's recruitment Web site used by the public and established the county's online benefit program for open enrollment.
McDaniel says her role as human resources director also gave her experience in administering more than $250 million in county pension assets and allowed her to build positive relationships with the county's various labor union groups.
McDaniel's education includes a bachelor's degree in business administration from Western Michigan University and a master's degree in public administration from Harvard University's John F. Kennedy School of Government.

She and her husband Tim, a local attorney, have been residents of Ann Arbor for 33 years and have a daughter, Samantha, who graduated from the University of Michigan and is a recent law student at the University of Miami.
McDaniel cites other accomplishments such as providing leadership on the Coalition to End Illiteracy, specifically on the financial literacy segment of the program. She also says she has provided leadership to the Eastern Leaders Group, United Way, and the county's Labor Management Team and Department Head Group.
Ryan J. Stanton covers government for AnnArbor.com. Reach him at ryanstanton@annarbor.com or 734-623-2529.