Posted on
Wed, Jun 23, 2010 : 6:01 a.m.
Village Green CEO says company getting closer on financing for Ann Arbor City Apartments
By Ryan J. Stanton
Farmington Hills developer Village Green was granted a 36-day extension Monday on plans to build an apartment project and parking deck on city-owned land in downtown Ann Arbor.
The decision came by a 10-1 vote of the Ann Arbor City Council, with Council Member Stephen Kunselman, D-3rd Ward, dissenting.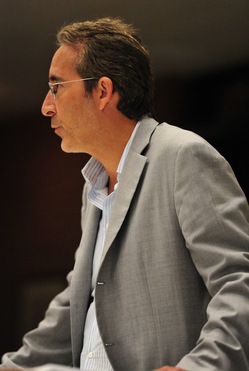 Ryan J. Stanton | AnnArbor.com
The council's approval extends Village Green's option to buy the city-owned site through Aug. 5. It's the fourth time the option has been amended.
The option agreement calls for the company to build a 156-apartment, 11-story (8 above grade) building known as Ann Arbor City Apartments with a four-level, 244-space parking deck. The parking component would be financed with a $9 million bond issued by the Downtown Development Authority.
The property is at the corner of First and Washington, where the city demolished a parking deck and solicited bids from developers to pursue the public-private partnership.
Jonathan Holtzman, CEO of Village Green, told city officials his company finally has lined up its intended financing partners.
Village Green has provided the city with offer of commitment letters from those financing partners and anticipates working to finalize its construction financing plan over the next few months.
"Village Green has and continues to be 100 percent committed to this transaction," Holtzman said, adding his company has had a number of other developments delayed in the last 18 months because of lending problems, but momentum is picking up. "Village Green has been waiting for this opportunity, and it is now there."
In spite of the obstacles, Holtzman told city officials in a June 14 letter his firm has made tangible progress in the last few months. The developer has selected a joint venture equity partner, LaSalle Investment Management, a national investor based in downtown Chicago.
"Like many institutional investors, they were reluctant to invest in real estate over the past 18 months due to the turmoil in the economy," Holtzman wrote to the mayor and council members. "Now that they are ready to get back into investing in apartments, they are excited about the opportunity to complete a transaction in the city of Ann Arbor with Village Green."
Holtzman said LaSalle has full discretion of a fund that has more than $400 million of equity to invest. He said LaSalle's deal team recently spent time in Ann Arbor to walk the site and better understand the market.
He said LaSalle has faith in the project, and the two parties are negotiating terms and conditions of a partnership agreement. He said the project's general contractor, Skanska, also is prepared to contribute gap financing to ensure the project comes to fruition.
"Although it has taken longer than anticipated due to circumstances beyond our control, we are now entering the final stage of completing the capital raise to finally begin construction," Holtzman said.
The City Council expects a comprehensive plan presentation on Aug. 5 that includes detailed project goals, timelines and appropriate remedies for termination of the option agreement should Village Green fail to meet certain milestones.
"This is a very short extension because there has been progress made by Village Green and we are working on a timeline of events," said Tom Crawford, the city's chief financial officer.
The option agreement originally was approved by the City Council on Feb. 20, 2007. Based on a previous extension, it would have expired on June 30, but now the city and developer have until Aug. 5 to finish working out a comprehensive plan for executing the project.
The resolution approved by council on Monday acknowledges Village Green has aggressively pursued financing for the project. City officials said when the option term was last extended in May 2009, the developer demonstrated reasonable progress, given the unanticipated financial market downturn.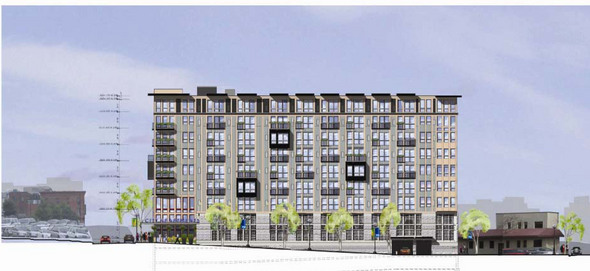 Village Green has approved site plans on file with the city, as well as an approved development agreement. It also has an approved parking agreement with the city and the DDA.
The city is hoping to sell the property to Village Green for about $3 million - money the city's administration has counted on being able to put toward the police-courts building addition to city hall at the corner of Fifth and Huron.
Holtzman said Village Green needed the latest extension so its architects and engineers could work directly with the city, including the fire and building departments, to figure out a specific timeline for plan reviews and execution of the project.
"We're now thinking that the problem will not be the financial markets — it will be actual normal process in between a developer and a city," he said.
Village Green has been an owner-operator of apartments in Ann Arbor since the early 1970s. The company currently operates five apartment complexes in the Ann Arbor marketplace.
It recently has had successes in other communities, too.
"We began an apartment project at the end of last year in downtown Minneapolis. We're working on a project hopefully this summer in Chicago," Holtzman said. "To put it in perspective, the one in Minneapolis at the end of last year, we think, is the only brand-new apartment project that started construction in the entire Midwest. In Chicago, if we start the one this year, it might be the only one in the Midwest as well. So Ann Arbor will be in excellent company."
Kunselman said he had concerns about granting Village Green another extension while city staff continues to work behind the scenes on the project at a cost to Ann Arbor taxpayers.
"This is deja vu," Kunselman said, referring to a deal that never worked out between the city and another developer for the former YMCA property downtown.
"This developer is probably no different," he said.
Kunselman asked if Village Green was willing to put money down to compensate the city for staff time spent on the project, so taxpayers wouldn't be billed for a "charade of a partnership."
"We've been down this road on partnerships with developers. It hasn't come to fruition, as far as I can tell, for any projects," he said.
Kunselman suggested the city go in a new direction — take all of the design parameters for the project, put them in a deed restriction, put the property up for sale, and let the free market take its course.
City Administrator Roger Fraser responded to Kunselman and encouraged pursuing good faith negotiations with Village Green.
Fraser said Village Green is asking for nothing more than the city would provide any other developer, which is a review of pending approvals that would be necessary once construction plans are in place, and timelines for those plan reviews.
He reminded council the project faces almost no opposition.
"This is a project on the west side of the downtown that was one of the rare ones where we actually got support from the neighborhood for a project that they liked and we liked," he said.
Fraser said Village Green is one of the first of several developers who had projects approved "way back" that are now coming forward and saying, "I now have what I believe is a financing plan to make this thing work."
Holtzman said he understands the issue is credibility.
"You know, while we're a 90-year-old company and I'm third generation, the last 18 months have been very difficult," he said. "What is really the truth? Is it a developer asking for an extension or is it a legitimate extension that the financial markets are really a mess?
"The letters that we've provided from the construction lender and the equity investor, I think, convert from your normal 'this is a good idea, we're interested' to 'no, we're interested in doing this specific project, now let's go through the details.'"
Ryan J. Stanton covers government and politics for AnnArbor.com. Reach him at ryanstanton@annarbor.com or 734-623-2529.