Posted on
Mon, Apr 30, 2012 : 5:57 a.m.
Wait-listed applicants unlikely to gain entry to University of Michigan
By Kellie Woodhouse
What's more likely: Getting plucked from the University of Michigan wait-list or finding a needle in a haystack?
It depends on how large that haystack is.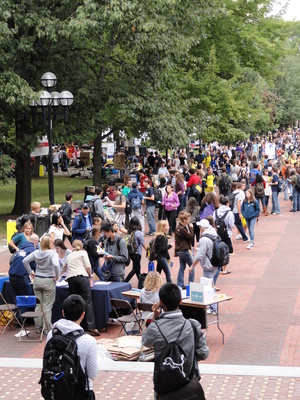 Photo by Trisha Paul
Roughly .3 percent of students offered a spot on U-M's waiting list last year were eventually accepted.
That year 39,584 students applied for entry into U-M's freshman class. Of those applicants, 16,073 students were admitted and 14,659 were offered a spot on the waiting list. Of the 4,498 students who accepted a spot, just 42 got in.
"Maybe they're kind of hedging their bets a little bit," said Pioneer High School records clerk Ellen Marshall. She said that placing "close to a third" of applicants on a waiting list is unusual. "It seems like a lot to me."
The year before, for entry into the 2010-2011 academic year, 9,409 students were offered a place on the waiting list, 3,724 opted to be listed and 79 were admitted.
U-M hasn't yet made the total number of applicants wait-listed this year publicly available. The school has received at least 42,000 applicants, a school record, and is aiming for a freshman class size of roughly 5,900.
The school begins to select students from the wait list on May 1, the day accepted students must turn in their deposit or forfeit their acceptance.
Marshall has counseled hundreds of students who were deferred or placed on U-M's waiting list and then rejected later.
"They're just desolate," Marshall said.
"I feel bad for them because growing up in this town it's really hard not to be accepted by the university that they consider part of their lives," she said, adding that the feeling of rejection is compounded when many of their friends and fellow students receive acceptance letters. "Kids are broken up when it happens."
Marshall and the U-M admissions office advise applicants placed on a waiting list to consider other options. Admissions counselors welcome applicants to send supplemental letters detailing second-semester senior year grades and accomplishments, but warn them that they should keep their options open.
"The number of students taken from the wait-list is determined by the number of people who pay their enrollment deposits after May 1st," said Ted Spencer, executive director of U-M's office of undergraduate admissions. "If the number is less than we predicted, then we take more students from the wait-list; if it is more than we predicted, then we don't take any or only a few."
Nonetheless, many wait-listed students still hold out hope for entry.
"A lot of wait-listed students will want to come in and talk about their options" with an admissions counselor, said Molly Cravens, a U-M senior and campus tour guide who regularly interacts with wait-listed students.
Recently one wait-listed student reprised a Michael Jackson song into a ballad to U-M and sent a video of his performance to U-M admissions counselors.
Many applicants who are wait-listed will apply to U-M again after spending their freshman year at another four-year university or community college.
U-M admissions officials say that when the university plucks students from the wait-list, it does so strategically in order to achieve a mix of geographic and academic diversity.
"The top admissions priority is to assemble the best possible entering class, whose members are prepared to thrive at and contribute to the university community during their years here," Spencer said. "The wait-list complements that process by helping us shape the class and ensure that enrollment class goals are met, rather than exceeded."
This article has been updated to note Ellen Marshall's correct title at Pioneer High School. Kellie Woodhouse covers higher education for AnnArbor.com. Reach her at kelliewoodhouse@annarbor.com or 734-623-4602 and follow her on twitter.