Posted on
Sat, Nov 28, 2009 : 5:45 p.m.
Sunny weather a boon for holiday sales at Ann Arbor Farmers Market
By Erica Hobbs
For many people like Diane Sproull and her husband, shopping at the Ann Arbor Farmers Market during the holidays has become a tradition.
"This is what we come for every year," said Sproull, who drove with her husband from Livonia Saturday to shop for Christmas decorations.
Just days after Thanksgiving, booths of wreathes, poinsettias and candles dominated the open-air market in Kerrytown, standing out among the standard tables of fruits and vegetables.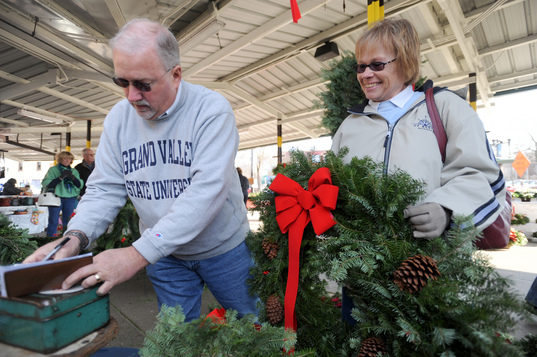 Angela J. Cesere | AnnArbor.com
Other merchants were selling holiday gifts ranging from handmade jewelry and knitwear to handpainted bowls and ornaments made of gourds.
With sunny skies and warmer temps, the mood was festive around the market Saturday afternoon - shoppers enjoying the weather and vendors happily selling their wares. Many merchants, who said sales were up, credited the boost to the holiday season and the good weather.
"It's been super crazy," Maite Zubia said, owner of Maitelates, which specializes in chocolate-dipped, dulche de leche cookies among others. "I didn't expect this."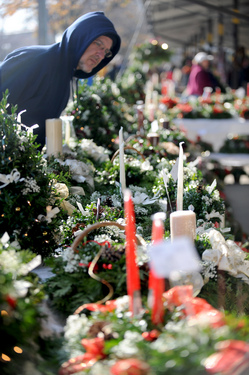 Angela J. Cesere | AnnArbor.com
Zubia, who was selling holiday boxes of the cookies, said she planned to leave the market early because she was about to run out of inventory.
Likewise, Kapnick Orchards' booth sold almost all of its baked goods and went through 12 gallons of hot cider, in addition to its apples out for sale.
"This is one of the better days-after-Thanksgiving I can remember," Scott Robertello said. "It really makes a big difference when the sun is out."
Anne Elder, who was selling goods with the Community Farm of Ann Arbor, said the farm had added wreathes to their booth last week, which were one of their most popular sale items today. Sales on all their goods, including vegetables, knitwear and hand cream, were up as well.
"The idea of buying local is sinking in, and it's making a difference," she said.
Shoppers also did well at the market, many walking away with fresh Christmas decorations and gifts or picking up some homegrown vegetables.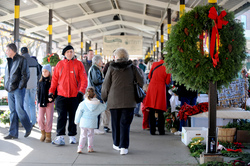 Tess Wosen, a former local who was visiting for Thanksgiving, was perusing the market with her aunt and grandma.
"When I'm home I have to come out, it wouldn't be the same if I didn't," she said.
Mother and daughter Leela and Eve Kausche said they came for their weekly grocery shopping and ended with a few gifts for family too.
"It's always awesome here," Eve Kausche said. "We just love the Ann Arbor Farmers Market."
Erica Hobbs is a freelance reporter for AnnArbor.com.