Posted on
Sun, Nov 22, 2009 : 6:01 a.m.
Washtenaw Avenue redevelopment proposed from Ann Arbor to Ypsilanti
By Ronald Ahrens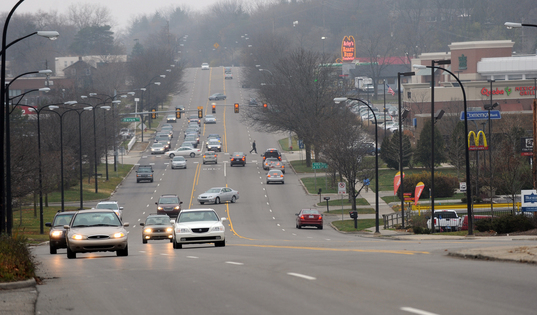 Lon Horwedel | AnnArbor.com
Planners have dubbed the five-mile stretch of Washtenaw Avenue from Stadium Boulevard in Ann Arbor to the water tower in Ypsilanti as the Washtenaw Avenue Talent Center.
And they have a bold initiative for it over the next 10 to 20 years.
Its creators say the plan aims to reduce sprawl and increase density along the route, relying on the rising demand for public transit and pedestrian-friendly connections. Features include reduced building setbacks, mixed-use development and affordable housing that will help Washtenaw County retain talented young residents.
Development would concentrate along transit "nodes" on the route.
"We're imagining that there are areas that could definitely support three-story buildings," said Anya Dale, senior planner in the Washtenaw County Office of Strategic Planning.
Dale worked with an "action team" of about 70 representatives from government agencies, the Ann Arbor Transportation Authority, local planning departments and business organizations to create the plan over the last 18 months. It was unveiled at an Ypsilanti Planning Commission meeting Wednesday and included input from representatives from Pittsfield Township, Ann Arbor, Ypsilanti and Ypsilanti Township. 
The initiative was an outgrowth of strategies generated by A2Success.org.
Coordinating public investment and multi-jurisdictional master planning will be a key aspect of the redevelopment plan, Dale said. She spoke of "restructur(ing) the way Washtenaw works" to create more of a "downtown" feeling.
She named Madison, Wisc., Boulder, Colo., and Portland, Ore., as leading models of mixed-use, high-density development.
"We're unusual, being that we're retrofitting," she said. "That's what makes it difficult. We kind of screwed up the first time."
Ypsilanti planning commissioner Cheryl Zuellig commended Dale and Ypsilanti Planning Director Richard Murphy for creating "a lot of momentum" through their work on the plan.
"I think a lot of exciting things could happen out of this, which haven't happened in the last 25 or 50 years," Zuellig said. 
Zuellig was named to serve as the commission's representative on the joint technical committee that will work out details with local governmental units, residents, funding sources and developers if the proposal advances.
"We all drive Washtenaw," said Ypsilanti Council Member Bill Nichols, who was on the action team. "Maybe we've become immune to how unappealing it really is. At this point, it's a matter of bringing recognition that it's desirable for us to do something along Washtenaw."
Dale said it's possible a corridor authority with its own zoning powers will be formed.
The planning commission also received an 84-page draft of a nonmotorized transportation plan authored within the city's planning department. It addresses issues like bicycle parking and snow removal at driveway crossings and intersections. Fencing that interferes with pedestrian crossings is another issue.
Planning commissioner Brett Lenart called the draft "a long-overdue document."
The plan goes to the Ypsilanti City Council for a 60-day review period before returning to the planning commission for a public hearing.
Ronald Ahrens is a freelance writer for AnnArbor.com. Reach the news desk at news@annarbor.com or 734-623-2530.