Posted on
Thu, Mar 8, 2012 : 6:24 p.m.
Washtenaw County confirms case of E. coli illness from sprouts
By Cindy Heflin
A confirmed case of E. coli-related illness in Washtenaw County is part of the nationwide outbreak caused by contaminated sprouts, the Washtenaw County Public Health Department has confirmed.
The case is one of at least three Michigan cases that have the same genetic fingerprint as cases reported earlier this year in a Centers for Disease Control-led investigation in other states that was linked to raw clover sprouts consumed at Jimmy John's restaurants, the department said.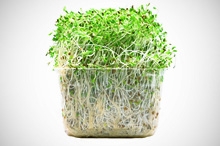 Epidemiologist
Laura Bauman
said the Washtenaw County Health Department received confirmation that the local E. coli case matched the genetic "fingerprint" of the national outbreak last week. She said the person who fell ill ate sprouts from a local Jimmy John's restaurant.
But she noted the sprouts, which came from a supplier, were contaminated before reaching the restaurant, and Jimmy John's practices had nothing to do with the contamination. Jimmy John's has since pulled sprouts from its menu.
The Michigan E. coli cases occurred between Feb. 6 and 12, the Michigan Department of Community Health said.
Sprout seeds can become contaminated with E. coli bacteria and are very difficult to decontaminate, Bauman said. They're grown in a warm, moist environment that is an excellent breeding ground for bacteria.
Illness caused by E. coli bacteria can include symptoms of acute diarrhea, especially, bloody diarrhea, and abdominal cramps with little or no fever. The illness usually lasts one week. In some people, especially young children, the elderly, or those who are immunocompromised, a more severe illness or even death, is possible.
Contact Cindy Heflin at cindyheflin@annarbor.com or 734-623-2572 or follow her on Twitter.