Posted on
Sun, Jan 22, 2012 : 1:35 p.m.
Washtenaw County Public Health encourages radon testing in homes
By Julie Baker
Winter is the perfect time to test for radon, and Washtenaw County Public Health is encouraging the public to take advantage of its half-price test kit sale this month to do so.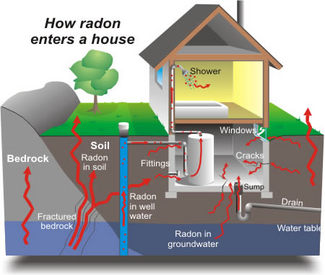 The Environmental Health Division is observing January as National Radon Action Month with $5 radon test kits through the end of the month.
Public Health estimates that as many as 40 percent to 45 percent of homes in Washtenaw County have elevated levels of radon, a tasteless, colorless and odorless radioactive gas. Radon is found in nearly all types of soil and rock and can enter homes through cracks in the foundation, dirt floors, hollow-block walls, and openings around floor drains and sump pumps.
"Radon has been increasing in awareness for the past decade or so," said Angela Parsons, an environmental educator for Public Health. "Many people don't have any idea about it. It's not like carbon monoxide where you go to sleep and don't wake up. The effects are more long term."
Radon is the leading cause of lung cancer for non-smokers in the United States, according to Public Health information. Research shows that radon is associated with 21,000 lung cancer deaths each year in this country.
Parsons said that winter is an ideal time to test for radon in homes because they are typically closed up tight during the winter. "It gives us a worst-case scenario reading," she said. Radon levels vary throughout the year, depending on how the home is open and ventilated. It may take up to two to three weeks to see results from kit tests. Public Health sells an average of 1,000 kits a year.
The Environmental Protection Agency recommends taking action when radon levels are above 4.0 pCi/L inside a home. For comparison, the average indoor radon level is about 1.3 pCi/L, and the average outdoor level is about 0.4 pCi/L in the U.S.
If a home is found to have elevated levels of radon, the levels can be reduced by installing a mitigation system. Depending on the home and contractor, a typical radon mitigation system costs $800 to $1,000 in Washtenaw County. Parsons recommended finding a contractor that is nationally certified in radon mitigation.
Radon home test kits can be purchased for $5 at the Western County Service Center between 8:30 a.m. and 5 p.m., Monday through Friday. The Service Center is located at 705 N. Zeeb Road in Scio Township. To purchase a test kit by mail for an additional $2, email parsonsa@ewashtenaw.org or call (734) 222-3869.
The radon test kits will remain available for purchase at the Western County Service Center after Jan. 31 at the regular price of $10. For more information, contact the Washtenaw County Environmental Health Division at (734) 222-3869 or visit www.ewashtenaw.org/radon.