Posted on
Fri, Mar 16, 2012 : 2:58 p.m.
Washtenaw emergency manager on Dexter tornado destruction: 'Never before in my county'
By Kellie Woodhouse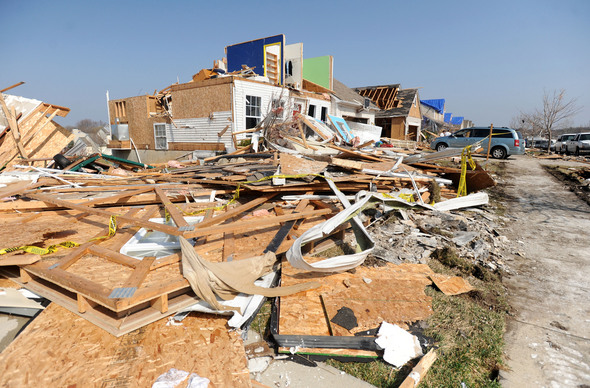 Angela J. Cesere | AnnArbor.com
At 5:07 p.m. Thursday night the first warning siren echoed through Dexter.
Twenty-six minutes later a fierce tornado ripped through the town, leveling an estimated 10 houses and severely damaging another 100.
More than 200 residents are now displaced.
But despite the immense wreckage, no one was harmed.
"Nobody was hurt: That's a shocker ... after seeing the area affected and how much damage there was," said Marc Breckenridge, Washtenaw County's director of emergency management. "You never know if someone is going to be killed or not during a tornado, but you think people are going to be hurt."
Breckenridge said residents were able to escape harm largely because of the "leap time" between the siren warning and when the tornado first hit.
"It was phenomenal," he said. "That really saved lives."
In addition to the more than 100 homes affected in Dexter, several businesses and roads were also damaged by the tornado. The county hasn't assessed that damage yet because assessors are still determining the extent of damage in residential areas. Breckenridge said that although "a lot of rain came down," no significant flooding from Thursday's storm remained in Dexter Friday afternoon.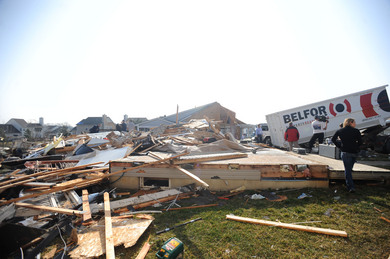 Angela J. Cesere | AnnArbor.com
Six people spent the night at emergency shelters. The county is encouraging all residents with severely damaged homes to seek shelter with family, friends or at the emergency shelter established at Mill Creek Middle School on Dexter Ann Arbor Road.
Breckenridge said that in his 20 years as Washtenaw County's emergency manager, he has never seen such a powerful tornado rip through the area.
"Never before in my county," he said.
"We've had several tornadoes that have touched down, but most of them have touched down in less populated areas," Breckenridge said. "(We've experienced) nothing on the scale of what happened last night."
Clean up is expected to last roughly two weeks, but Breckenridge says the "real challenge" is rebuilding the dwellings that are now uninhabitable. Already, however, Dexter homeowners have received offers of help form tree-trimming companies, construction companies and restaurants.
Power has been restored in most of Dexter Village, but much of the area between Dexter and Pinckney is without power due to a major electricity line between the two townships that needs to be entirely replaced. Roughly 20 DTE Energy crews are currently working on restoring that line, Breckenridge said.
While there's been an outpouring of support to Dexter residents affected by Thursday's tornado, with people from around the country already inquiring on how to donate, officials are still urging volunteers to stay out of the village.
At a press conference Friday afternoon, Washtenaw County Sheriff Jerry Clayton said access will be restricted to the village for the next day or two. He said emergency crews need room to operate and, while donations are encouraged, it's best to leave the immediate recovery in the hands of professionals.
"For those of you who want to come to the area, we encourage you to stay out," he said. "We appreciate it and there will be a time for volunteers to come in and provide assistance, but now is not that time."
Like Breckenridge, Clayton said the early warning could be credited for the fact there were no injuries. There are two tornado-warning sirens in the village.
"We think that's a testament to the emergency warning system, a testament to the public education system on how you respond to that and, quite frankly, a testament to the Dexter residents and how they responded to that," he said.
The sheriff's office is still in the middle of the assessment period and are not working with a definitive timetable, Clayton said. There was no monetary estimate on property damage as of Friday afternoon.
Clayton, state Rep. Mark Ouimet, R-Scio Township, village of Dexter president Shawn Keough and sheriff's office spokesman Derrick Jackson all thanked first responders who came to the affected area. Ouimet said seven different fire departments responded to Dexter Thursday night.
There were no people utilizing the Mill Creek Middle School emergency shelter that had been set up after the storm as of Friday afternoon, but the shelter was remaining open, Clayton said.
There were some people taking refuge in the Salvation Army shelter in Ann Arbor following flooding in the city Thursday. However, the rest of the county seemed to escape major damage throughout the storm, Clayton said.
A significant amount of Dexter residents are still without power and DTE Energy crews are currently still on scene working. Jackson said he's been told power might be back to all customers by the end of Friday.
There was a lot of damage along Dexter Pinckney Road, which is still closed off due to downed power lines, according to Jackson.
Keough said the village is working with nearby townships, the sheriff's office and the state to get the affected neighborhoods — especially the hard-hit Huron Farms subdivision — cleaned up and have some sort of normalcy restored.
"The storm came through the village and hit the areas around Huron Street, Second Street and then Huron Farms," Keough said.
The water and sewage systems in the village are not damaged, but some are working on back up power systems, he said.
The village will be disseminating information as much as possible through Facebook and whatever other means are available, Keough said.
It's unclear if Dexter Community Schools will hold classes on Monday, Clayton said.
Although some people were milling about looking for scrap metal, Jackson and Clayton said there has been no influx of looters or opportunists looking to make some money off the destruction.
Gov. Rick Snyder walked through Huron Farms Friday afternoon, Ouimet said.
Ouimet said he's been struck by the amount of compassion neighbors are showing for each other and the spirit of the people of Dexter as they've responded to the storm.
"On something like this, it does do your heart good to see people pulling together," he said.
"In walking the subdivisions and talking to the constituents, (I've noticed) No. 1 how grateful they are to have made it through and No. 2 how good the response has been on their behalf," he added. "They've seen firsthand now what it means."
The Red Cross is still in the process of doing an assessment to see what is needed in the village, Clayton said. For Washtenaw County residents looking to donate, Clayton said to dial 211 to reach the United Way to donate all goods and services and to call The Red Cross at 734-971-5300 for all financial donations.
Crime reporter Kyle Feldscher contributed to this report.
Kellie Woodhouse covers higher education for AnnArbor.com. Reach her at kelliewoodhouse@annarbor.com or 734-623-4602 and follow her on twitter.