Posted on
Mon, Mar 22, 2010 : 8:30 p.m.
'Imperfect' health care reform will have mixed impact for Ann Arbor-area patients, experts say
By Tina Reed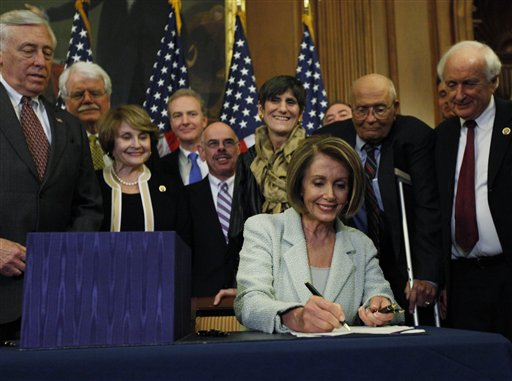 AP photo
There was no way Ivan Harner was going to bed before knowing what happened to the massive health care package moving through Congress Sunday evening, even though it was well after 11 p.m. when it finally passed.
For months, a national debate on the best way to overhaul the U.S. health care system had been raging as multiple versions of health care reform bills emerged in Congress.
When the debate promised to come to a head with a House vote, the executive director of the Ypsilanti-based Hemophilia Foundation of Michigan was among those keeping a close eye on the $940 billion national health care bill because of its potentially far-reaching implications. Harner and others in the Ann Arbor area who deal with health care issues every day spent Monday trying to sort out those implications.
Just one of them, Harner said, is language that would eliminate lifetime caps on the amount of health care costs an insurance company is willing to pay for an individual. For that reason alone, the passage of the legislation is welcome news to the local hemophilia community.
"Hemophilia is a very expensive disease to treat … The costs are $100,000 to $250,000 a year just for the medicine. People cap out their health insurance very quickly," Harner said. "The only option often available to them is they have to change jobs."
Passage of the bill left many medical care consumers confused. Blue Cross Blue Shield of Michigan was inundated Monday with calls from members asking whether their coverage would change or had already changed with the passage of the bill.
"People are generally concerned about the implications to their health care coverage," said spokesman Andy Hetzel. "What this signals is people are confused and people are concerned."
The answer to most questions, he said, is nothing is changing immediately. But customers could begin seeing changes later this year, he said. Those changes could range from expanded coverage for some people to more expensive coverage for others.
"As soon as the next six months, things will change. People with younger adults under 26 who claim them as dependents will be able to keep them on their health insurance," Hetzel said. However, those who do not claim their adult children as dependents on their taxes will not. "That's an example of the complexity and the confusion that accompanies that complexity."
There are changes made with legislation, such as ending the practice of allowing insurance companies to bar coverage of individuals with pre-existing conditions, that will have clear positive effects on patients, Hetzel said. But the legislation also calls for taxes on insurance companies by 2018 to help subsidize coverage for individuals and it's unclear whether that might result in an increase in premiums from the insurance industry. "We're still trying to understand the impact (the legislation) will have," Hetzel said. The focus going forward needs to be helping folks understand the content of the legislation and how it will impact them, Hetzel said.
Several local health care experts called the bill "imperfect," but applauded pieces of the bill.
"I'm very pleased to see an imperfect, but extremely important piece of legislation," said A. Mark Fendrick, who is a professor of internal medicine at the University of Michigan Medical School. The legislation will expand coverage to many more people, he said, and make it harder for health care plans to drop individuals once they develop certain illnesses. He does not believe those who already have health insurance will lose coverage.
"A very relevant issue to the demography of Ann Arbor is parents will be able to keep their child on their health plan until their children are 26," Fendrick said. "Within the 2,000 pages of the bill are some innovative solutions to problems; there are solutions to improve health and wellness programs and also reforms to the payment system to get costs under control."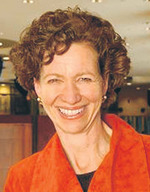 Marianne Udow-Phillips is the director of the Center for Healthcare Research & Transformation in Ann Arbor.
Most people won't see huge changes, said
Marianne Udow-Phillips
, the director of the
Center for Healthcare Research & Transformation
in Ann Arbor, a non-profit health care research partnership between U-M and Blue Cross Blue Shield of Michigan.
"For certain people with private coverage, they should see some benefit such as an increase (in the coverage) of preventative exams." Those with Medicare will more immediately see some relief from the so-called "doughnut-hole," a gap in prescription drug coverage between certain expense levels. Those who use tanning beds will notice a new 10 percent tax on the service. The bill may also increase the cost for people who already have insurance, she said.
A 40-percent excise tax will go into effect on family health coverage more than $27,500 in 2018. That's quite a bit higher than the average family premium in Michigan, which was more than $11,301 in 2008.
"It will decrease the rate of increase in the cost," Udow-Phillips said. "The actual cost of health care will go down."
Those already enrolled in Medicaid shouldn't really experience any changes, Udow-Phillips said. "What the legislation does do is that it will increase reimbursement for primary care physicians to Medicare levels, which is quite significant," she said. "With this bill, there are a lot of new people who will qualify for Medicaid." An estimated 500,000 additional Michigan residents will become eligible under new guidelines in the legislation,she said. That could create additional pressure on the system that will need to be dealt with down the road, she said.
Also included in the legislation is a mandate that all people purchase some sort of health coverage or pay a $695 penalty. Udow-Phillips said a mandate can help increase the number of young and presumably healthy individuals who are paying into insurance systems. However, she questions whether the penalty would be high enough to push individuals to purchase insurance.
"If you're young, you're going to play the risks," Udow-Phillips said. "People will be doing the trade off in their minds about what the premium is, what the chances are they're going to need healthcare and what the penalty is. We'll see how that plays out over time."
In a part of the state that has not been immune to auto workers losing both their jobs and their coverage, the creation of new markets, called exchanges, through which individuals can purchase coverage could have a significant impact, said Matt Davis, an associate professor of pediatrics and communicable diseases and internal medicine at the U-M Medical School. That, and increasing the pool of people eligible for Medicaid, could have a big local impact, he said.
"What this new national health care reform does is it provides coverage to patients and makes it easier for health care providers to get patients for the care they offer," Davis said.
In the future, there will be more cost sharing and some consumers who already had coverage may find themselves having to pay more for coverage they already received as part of the new system, and it may make some people unhappy, he said. In his own clinic, he's recently seen many more patients asking for cheaper alternatives to the prescriptions and tests he suggests. That is an example of how those who have coverage, but also have to cost-share, may just help bring overall health care costs down in the future.
"The question is, will heath care costs be controlled well enough with this health care reform or will they grow even faster because more people have coverage? We don't know the answer to that just yet," Davis said.
Tina Reed covers health and the environment for AnnArbor.com. You can reach her at tinareed@annarbor.com, call her at 734-623-2535 or find her on Twitter @TreedinAA.