Posted on
Mon, Feb 7, 2011 : 6:34 p.m.
Loved ones share memories of Whitmore Lake student killed in crash
By Kyle Feldscher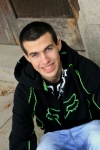 Jesse Burkitt
looked forward to the many possibilities his life had in store for him before a car crash took his life Saturday morning.
BJ Call, his stepfather, said Burkitt didn't know where his life was going, but was positive it was going somewhere good. He said Burkitt spoke about potentially joining the military after college, but didn't have his heart set on any one thing.
"Jesse was one of those kids who was open to just about everything," Call said Monday. "He wasn't really sure. He was about to graduate in three months and had talked about joining the military at one time."
Burkitt, 18, died after his Chevrolet Cavalier left the right side of the road on Interstate 96 at Grand River. The eastbound vehicle struck a snow bank and a guardrail before hitting a cement bridge and a utility pole, authorities said.
A member of the Whitmore Lake High School power lifting team and a football player his junior year, Burkitt was driven by a passion for sports, said his stepfather.
"He loved the competition and the sport," Call said. "He loved the entire thing, being a part of a team. He loved the whole team spirit and that's how Jesse lived his life — his friends and his family were everything."
Burkitt's passing led to a somber day at Whitmore Lake High School, which opened for two hours Saturday evening to give the community a place to grieve, said superintendent Kim Hart.
Friends and other students at the school were able to write personal messages on a banner Saturday night, Hart said.
"They were able to talk and share and write down personal messages on the banner to get their feelings out a bit and be around people who knew Jesse," she said.
She said staff at the school were doing their best to be flexible with students during classes today, working in time to give grieving students a place to go. Hart said counselors were available for those who needed to talk.
The school district does not have a written policy on what actions to take in the wake of a student death, but Hart said flexibility was the main thought.
"It does seem to help to have kids here and it gives them a place to go and get rid of those emotions," she said.
Burkitt's family is holding visitation services at Casterline Funeral Home, 59255 Ten Mile Road in South Lyon. A funeral service will be held at 11 a.m. Thursday at the funeral home.
The Burkitt family has requested donations be made in Jesse Burkitt's name to the Michigan Humane Society, 30300 Telegraph Road in Bingham Farms. The family has also set up a fund in his memory with checks payable to "In Memory of Jesse Burkitt" and sent to PNC Bank, 9571 Main Street in Whitmore Lake.
Kyle Feldscher covers K-12 education for AnnArbor.com. He can be reached at kylefeldscher@annarbor.com.