Posted on
Tue, Feb 21, 2012 : 5:59 a.m.
Who could be Ann Arbor's next mayor after John Hieftje's long reign?
By Ryan J. Stanton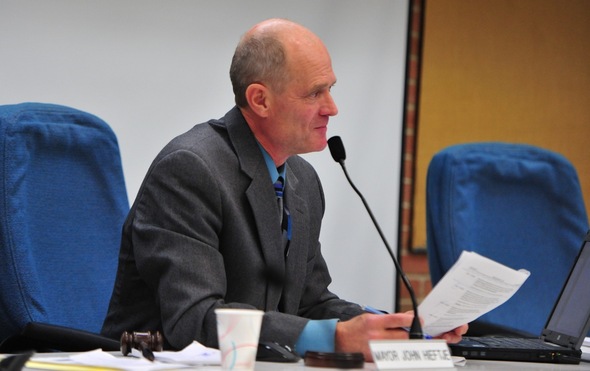 Ryan J. Stanton | AnnArbor.com
Ann Arbor Mayor
John Hieftje
says there's a chance he might not run for re-election again after this year, meaning the mayor's seat could be up for grabs in 2014.
"My inclination would be not to run again if we can get through the recession and turn that corner," Hieftje said. "I think we're starting to turn that corner."
If Hieftje hangs up his hat, who could be Ann Arbor's next mayor?
In some political circles, the names of three Democrats come up in conversations: Conan Smith, Tony Derezinski and Sabra Briere.
Smith and Derezinski both confirmed they're considering running for mayor in 2014, though Briere was more hesitant to say as much.
Derezinski and Briere both currently serve on the Ann Arbor City Council and have different political factions pushing them to seek higher office.
Derezinski, a former state senator, is one of the mayor's close political allies on council and likely would have backing from Hieftje supporters.
"I have been thinking of it. It's certainly something I am considering," Derezinski said of waging a mayoral campaign in 2014. "My immediate concern right now is getting re-elected to the City Council, but down the line it's something I'm very interested in."
Briere said it's flattering to be considered, but that doesn't mean she's packing her bags and measuring the windows for curtains.
"Certainly people have talked to me about running for mayor, but I consider two years from now too far in the future for me to say what I'm going to do," she said. "There could be a dark horse that none of us are prepared for."
Ryan J. Stanton | AnnArbor.com
Smith, chairman of the Washtenaw County Board of Commissioners, comes from a political dynasty that includes
Al Wheeler
, his grandfather, who served as the city's first black mayor in the 1970s. His mother,
Alma Wheeler Smith
, also served in the state Legislature for many years.
"I'll tell you candidly, a lifelong dream of mine is to be the mayor of my hometown and I think that would be a great service to offer to the community," Smith said.
Smith said he'd have to really think through what he could bring to the city given the set of circumstances it's facing, contrasted with what he's doing at the county. It's possible he could run in 2014, he said, but only if Hieftje steps down at that point.
"I'm pretty supportive of Mayor Hieftje and I think from a performance standpoint he's doing a fine job," he said. "I really like his priorities around public transportation and environmental protection, so I'm not interested in running against him. If the mayor stepped down, I love my city, I was born here, I was raised here, and I would be truly honored to serve as its mayor."
Hieftje, a Democrat, has been Ann Arbor's mayor since 2000. He doesn't yet face any challengers as he seeks re-election in 2012, but two people — University Bank President Stephen Ranzini and Tom Wall, a retired special education teacher and owner of All Star Driver Education — have indicated they're exploring throwing their hats in the ring.
After more than a decade in office, Hieftje has raised the bar for what the city expects from its mayor, Briere said.
"When John ran for mayor in 2000, the mayor was still pretty much a part-time position," she said. "It's become a full-time position. We have a lot more expectations now about what the mayor will accomplish. It's certainly no longer just a figure head position."
The mayor's salary is now set at $42,436. The position paid just $18,300 when Hieftje was elected through 2004 when the salary was bumped up to $28,000.
Ryan J. Stanton | AnnArbor.com
In January 2005, the mayor's salary increased again to $40,000, and then ticked up to $41,200 in 2008. Since 2009, the salary has remained the same.
"John raised the visibility — he increased people's awareness — of this role," Briere said. "John has a national awareness and people on the national scene are aware of him. He's gone to the national conference of mayors. He's worked with people in Washington.
"Those are not necessarily things that previous mayors did and that's an important aspect. It's not the ceremonial position it was when Ingrid Sheldon or Ed Pierce were mayor, when we looked to the mayor to officiate at weddings as much as anything else."
Hieftje easily defeated two challengers in 2010 — Patricia Lesko in the Democratic primary and Independent Steve Bean in the November general election.
Briere said if she ran for mayor, she would want to believe she could win. And to run against Hieftje, she'd have to believe he was doing a bad job.
But she thinks Hieftje has been successful as mayor, and she doesn't see running against him in her future.
"John and I don't always agree, but I think that his intention is good and he has a lot more follow-through than I realized when I ran for office," she said.
"I know the last time through a lot of people just cherished the idea that anybody would challenge him, whether that person was qualified or not," Briere added. "I'm not in that camp. I feel strongly that anybody who runs should at least, on the face of it, be qualified. They need to know enough about leadership to actually accomplish goals."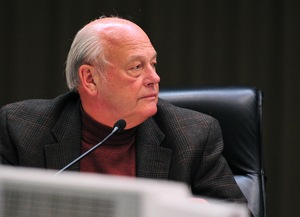 Ryan J. Stanton | AnnArbor.com
Derezinski said anybody following Hieftje has big shoes to fill. He believes Ann Arbor has a big role to play in Michigan's future, and his professional experience could serve the city well.
"I think the main thing is my background in municipal work — both being on council by then six years and then also having a specialized degree in urban government and a long practice in the area of municipal law," said Derezinski, who also serves on the city's Planning Commission and Public Art Commission. "That, I think, is a wonderful background for doing it, and also the familiarity of what is going on in local government across the state."
Smith said his decision would have to be a family decision. He's married to state Sen. Rebekah Warren, D-Ann Arbor, who could run for Congress at some point in the future.
"She has a stellar political career, far more important and with far more potential than mine," Smith said. "So she and I would have to talk over what does that mean to her and what decision she wants to be making in that same time frame."
Hieftje said he wants to spend his last term seeing the city through the current financial crisis, and it should be apparent by next spring whether that has happened.
"There's still a lot of things that could happen, but right now things are looking better and we're hiring people," Hieftje said. "I want to get the city through the hard times of the recession and then I'll have to sit down and think about it, but that's been my thrust."
Ryan J. Stanton covers government and politics for AnnArbor.com. Reach him at ryanstanton@annarbor.com or 734-623-2529. You also can follow him on Twitter or subscribe to AnnArbor.com's email newsletters.