Posted on
Wed, Dec 15, 2010 : 6:02 a.m.
Who stole trees from the Arb, presumably to use for Christmas?
By Amalie Nash
Two trees in Nichols Arboretum were chopped down and hauled off in recent days — presumably to be decorated and displayed in houses for the holidays, police said.
Cutting down trees there is illegal — a crime University of Michigan police say is particularly troubling since the popular Arb is a place for others to enjoy and conduct research.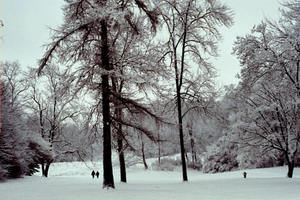 Photo courtesy of the University of Michigan
The first tree theft was discovered on Dec. 8, but the tree was stolen between 9 a.m. Dec. 4 and 5 p.m. Dec. 5. Taken was a pine tree valued at $45, reports said.
The second tree disappeared between Dec. 7 and Dec. 9. According to reports, a 5-foot section of a Red Cedar tree was taken from the Laurel Ridge trail. It was valued at $30.
Campus police spokeswoman Diane Brown said one of the trees was cut down, and in the other case, a 5-foot section of a larger tree was sawed off.
Brown said police don't have any suspects, but if the thief or thieves are identified, they could face misdemeanor larceny charges. She said police don't know why the trees were taken, but it was likely so someone could use them for Christmas decorations.
The 123-acre arboretum operated by U-M is located on the eastern edge of Central Campus and is open to the public from sunrise to sunset.
Police asked anyone with information on the tree thefts to call campus police at 734-763-1131.