Posted on
Sun, Mar 25, 2012 : 5:59 a.m.
Winners and losers: How Washtenaw County districts fare in attracting school-of-choice students
By Danielle Arndt
Seven of
Washtenaw County
's 10 public school districts, including
Ann Arbor
, saw a net loss of students to charter schools and other districts in the 2010-11 school year, a statewide report shows.
Only Saline, Milan and Manchester experienced a net gain of students last school year, according to statistics gathered by the Center for Educational Performance and Information (CEPI).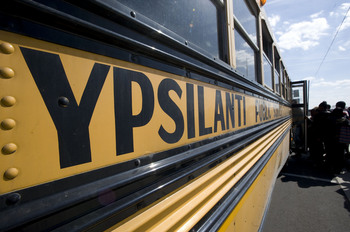 AnnArbor.com file photo
The hardest hit district was
Willow Run
, which tabulated a net loss of 1,164 students, equal to 42 percent of its student population.
Lincoln
and
Ypsilanti
also lost a large number of students overall.
Strictly by the numbers, Ann Arbor had the greatest net loss — 1,222 students — but it's also the largest district in the county by about 11,000 students. The loss is equal to about 6.9 percent of the public school-age children residing within the district's boundaries. For every student AAPS lost in 2010, it cost them $9,320 in state aid.
Children transferring to a private school or coming from a private school are not included in the CEPI data, which is the most current numbers available.
The Center for Educational Performance and Information is located within the Office of the State Budget. Its initiatives in data collection and reporting facilitate school districts' compliance with the federal No Child Left Behind Act of 2001 and the Michigan Department of Education's accreditation plan, Education YES, according to its website.
The majority of Willow Run students who left last year, 718, opted to enroll in Ypsilanti Public Schools.
Students can enroll in school districts where they are not residents through Schools of Choice, non-resident children of employee programs, alternative education programs and for special education services. With most of these non-resident programs, parents are required to provide transportation.
Students transferring to another traditional district take with them their state aid — so Ypsilanti would have gotten $9,320 for an Ann Arbor student enrolling in its district in 2010, rather than the $7,813 it got for an in-district student. Charter schools were given $7,410 per student in 2010, regardless of which district the child came from.
Chelsea and Dexter are the only Washtenaw County school districts that do not offer Schools of Choice. They also gained the least number of non-resident students in 2010 — 12 and 19, respectively.
Seven of the remaining districts have offered Schools of Choice for more than five years. Ann Arbor approved its program two years ago.
The majority of the districts are open to non-resident students in only select grades, most commonly at the elementary level. Willow Run and Ypsilanti are the only districts that accept students in all grades, K-12.
All of Washtenaw County's Schools of Choice participants accept in- and out-of-county students, except Ann Arbor and Willow Run.
In 2010-11, Lincoln, Milan and Ypsilanti attracted the greatest number of out-of-county students.
One hundred forty-nine students living within Van Buren Public Schools district in Wayne County elected to attend Ypsilanti, 87 attended Lincoln and 58 chose Milan.
Milan was the big winner in gaining non-resident students in 2010-11. It saw a net increase of 467 students, equal to 21 percent of its student population.
Superintendent Bryan Girbach said 628 children were enrolled in Milan through Schools of Choice. That gain was partially offset by Milan's loss of some of its own students to other districts or charter schools.
"It's been very successful," Girbach said of the district's Schools of Choice program, which began in 1996.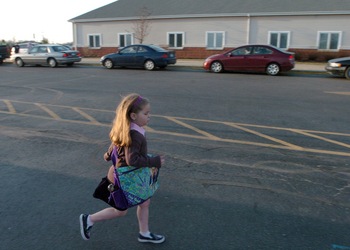 File photo
Local students have benefitted from welcoming non-residents, he said. Milan has been able to offer a greater variety of programs, especially at the high school level, due to attracting more students.
Girbach said schools need a certain number of students to sign up for a class before they can open another section or add an elective.
Most of Milan's non-resident students transferred from Lincoln and Ypsilanti, 296 and 114 children, respectively.
Ann Arbor gained 206 non-resident students in 2010, 95 were through Schools of Choice.
Ninety students from Ypsilanti was the greatest number of non-residents Ann Arbor received from any single district.
But Ann Arbor sent 98 of its resident students back to its southeastern neighbor. This was the highest number it sent to any of the traditional districts, followed by 56 to Saline and 51 to Milan.
Charter schools were the other big winner in the school-of-choice game in 2010-11. If parents elected to send their child to a school other than their home district, it was likely a charter school.
Of the 192 students in 2010-11 residing in Milan but not attending Milan, 65 went to South Arbor Charter Academy. One hundred eighty-three students from Ann Arbor also attended South Arbor.
The other charter schools Ann Arbor parents sent their children to most frequently were Central Academy, 233, and Fortis Academy, 182.
Fortis Academy also attracted 132 Willow Run students in 2010-11.
Parents within Ypsilanti Public Schools sent the most children to charter schools. Of the 1,795 students that opted out of Ypsilanti, 277 went to Central Academy, 251 went to Fortis Academy, 171 went to Eastern Washtenaw Multicultural Academy and 108 went to Victor Academy.
The greatest number of students Ypsilanti had enroll any one of the other traditional districts was 172 to Willow Run.
A list of where school-of-choice students are transferring from for each Washtenaw County district is available here.
To see which districts and public school academies school-of-choice students are transferring to, click here.
The charts contain data for fall 2008 through fall 2010.
Editor's note: This story has been revised to correct information in a photo caption.
Staff reporter Danielle Arndt covers K-12 education for AnnArbor.com. Follow her on Twitter @DanielleArndt or email her at daniellearndt@annarbor.com.