Posted on
Thu, Jul 7, 2011 : 8:58 p.m.
Fire causes Ypsilanti garage to go 'up like a tinderbox,' owner says
By Heidi Fenton
An Ypsilanti man was left looking for a new place to host his daughter's upcoming graduation party after a fire quickly engulfed his garage Thursday night, burning it to the ground.
Ypsilanti firefighters responded to 1415 Whittier Road around 6 p.m. after Mike Branch walked outside his home and found flames tearing through his garage.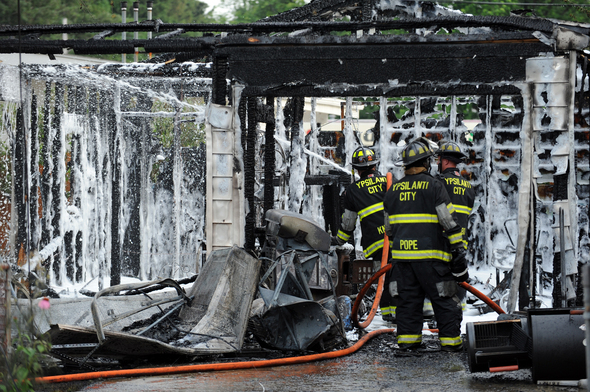 "It went up like a tinderbox," Branch said Thursday night, as he watched fire crews tending to a leftover pile of ashes in his driveway. "It was completely engulfed.
"It happened so fast."
Fire Capt. Dan Cain said there were no injuries in the blaze, which started near a charcoal grill and spread into the nearby garage. The siding on Branch's home and a house next door was partially melted from the heat.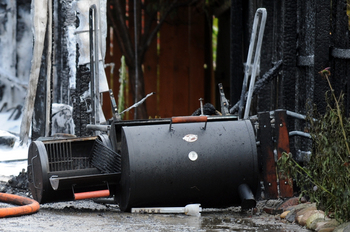 As Branch sat on his front porch, he said only an hour earlier he had been cooking chicken in his driveway, waiting for his wife to arrive home from work. He stepped inside for about 20 minutes, and heard a noise coming from outside he thought was someone coming up the driveway.
That's when Branch glanced out and was shocked to see the blaze taking shape.
Several propane tanks and another propane grill nearby likely caused the fire to grow quickly, he said. Still, no vehicles were inside and Branch was relieved to lose little more than some lawn equipment. The building was insured.
Branch's 18-year-old daughter was home at the time, but made it safely out of the house and away from the blaze. She recently graduated from Saline High School, he said, and the family will be working out new plans for her graduation party at the end of the month.
"Everything can be replaced," he said.
The Ypsilanti Township Fire Department assisted at the scene and firefighters from the city of Ann Arbor were called off while on their way to help. The fire remains under investigation by the Ypsilanti Fire Department.
Heidi Fenton covers police and courts for AnnArbor.com. Reach her at heidifenton@annarbor.com or 734-623-4673. You also can follow her on Twitter or subscribe to AnnArbor.com's e-mail newsletters.