Posted on
Sat, Dec 18, 2010 : 6:03 a.m.
Ypsilanti man takes first place in Major League Dreidel competition
By Heather Lockwood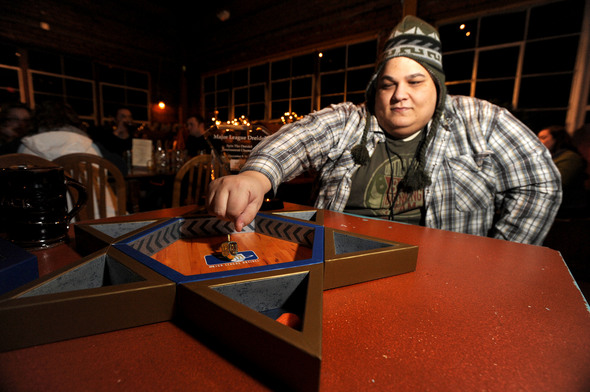 Angela J. Cesere | AnnArbor.com
Last year, Alan Black spun a dreidel for the first time.
This year, he took first place at the annual Major League Dreidel Tournament in New York.
"I had spun regular tops and stuff," he said.
But never a dreidel. Not until a friend told him about the tournament and they decided to give it a try.
Black was one of about 140 competitors in the Dec. 9 event at the Knitting Factory in Brooklyn. It was his second year competing in the tournament. Black didn't win in the 2009 tournament, he suspects, because of nerves and because he and his friends, who also competed in the tournament, may have over-practiced.
"I think we practiced too much (last year). One of our players, his finger was sore," he said. "Last year I was more nervous, not knowing what to expect."
Black said he invested about 15 to 20 hours of practice time in preparation for this year's competition, compared to the more than 100 hours he spent practicing for the 2009 tournament.
Though dreidel spinning is an individual sport, Black said, he and several friends consider themselves a team, "Team Smoot," and support each other at the tournament.
The object is to keep the dreidel spinning for as long as possible on the Spinagogue — Major League Dreidel's official spinning stadium. As the tournament progressed, Black said, the walls surrounding the Spinagogue's confined spinning platform inched closer, reducing the surface area on which to spin.
Black said his winning spinning time in the final round — within the smallest spinning area of what he estimates to be about 6 inches across — was 12.81 seconds. As the 2010 champion, Black won a first-place trophy and a Spinagogue.
"It's the closest thing I'll ever get to winning a major sports championship," he said.
Eric Pavony, of Brooklyn, who founded Major League Dreidel in 2006 and invented the Spinagogue, came up with idea of a dreidel spinning tournament during his mother's "famous" Hanukkah party she calls "Latkes & Vodkas." He noticed the dreidels sitting on the table and as garnishes on plates served as more decoration than game.
Traditionally, dreidels are used in a game where players win money or game pieces based on how the four-sided dreidel, which has a letter on each side, lands when it is spun.
"Nobody was spinning the dreidels, they were just used as sort of a holiday icon," he said. "I said, 'This is crazy,' you know? ... 'There's got to be a way to make the dreidel more fun, more dynamic.' "
So, Pavony said, he challenged the party's remaining guests to a dreidel spinning competition, and the concept for Major League Dreidel was born.
"Part of Major League Dreidel's mission is to sort of extend dreidel season past the eighth night of Hanukkah," he said.
The tournament in New York was the largest of the 14 Major League Dreidel competitions held across the country this year, Pavony said. Next year, he hopes to hold a national championship in which champions from each of the regional events can compete against one another.
He said the annual tournament in New York is more than just a competition — it's the "greatest Hanukkuh party in the world," with food, drinks and live music, including a performance of "Hanukkah Gone Metal," by Gods of Fire. Dec. 9 was the last night of Hanukkah this year.
Black said most of the competitors go by a "spinner name" at the event — this year his was "Juspin Bieber." He said he chose the name because he wanted something funny people could relate to.
Black said he had not expected to win.
"It's kind of unbelievable," he said. "I was kind of in a dream the rest of the night."
But more exciting than winning the tournament, Black said, was the fact that he beat the dreidel spinning world record holder — Pamela "Pamskee" Goldman.
"I beat the world record holder this year when it was down to the final eight," he said. "That was the most nervous I was all night, going against her."
Kurt Anschuetz, of Ypsilanti, and a member of Team Smoot, also competed in the tournament. He made it to the final 16.
Anschuetz said a good dreidel spin requires "a lot of finesse," and the dreidel must not "move around the board" — all of its energy must go into the spin.
"Very few people can do that consistently, and somehow Alan was able to do it," he said. "We were as happy as anything, and extremely happy for Alan, too."
Black said he and some of his friends intend to compete in next year's tournament, too.
For more information on upcoming tournaments or to host a Major League Dreidel tournament in your city send an email to info@majorleaguedreidel.com.