Posted on
Thu, Jun 9, 2011 : 6:17 p.m.
Man who died at Ypsilanti library was a former Olympic wrestler and Scarlett Middle school teacher, coach
By Juliana Keeping
James Bryant once took leave from teaching science at Scarlett Middle School to compete for his country as a freestyle wrestler.
He was robbed of his Olympic dreams when the United States boycotted the Moscow games in the summer of 1980 - but he went on to create a middle school coaching dynasty at Scarlett that sent others on the path he'd once hoped to take.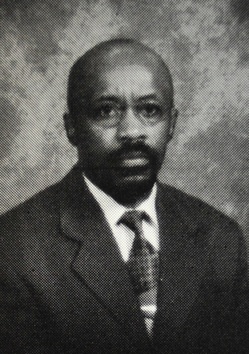 Scarlett Middle School yearbook photo
Bryant, 62,
died Tuesday at an Ypsilanti District Library in Ypsilanti Township
. The former Olympic wrestler was a well-known and respected veteran science teacher at
Scarlett Middle School
in Ann Arbor who lived in a perpetual state of physical fitness, those who knew him said.
Despite his healthy lifestyle, he had a stroke a year ago in class, his colleagues said. He took a leave of absence from the coaching duties and job he'd held for decades.
A library patron found Bryant, an Ypsilanti Township resident, Tuesday morning at the library's Whittaker Road branch, the Washtenaw County Sheriff's Department confirmed Thursday. The patron found Bryant unresponsive in the men's room. He had not been seen inside the library, library officials said.
It's possible he had been out running on a scorching day that pushed the heat index to 100 degrees before he stopped in the library, said Derrick Jackson, sheriff's department spokesperson. Jackson said Bryant died before rescue workers arrived.
The Washtenaw County Medical Examiner's Office had not made an official determination on his death Thursday afternoon, Jackson said.
Bryant's stroke in early 2010 occurred while he was teaching, said Edward Broom, who had worked for five years with Bryant while an assistant principal at Scarlett. Broom and others ran to his aid.
"He was known as a fair and honest teacher," Broom said. "He was well-respected by the kids. I think it's because of his high expectations in the classroom. Students knew what to expect with Mr. Bryant. There were no surprises."
Fikisha Taylor had Bryant as her middle school science teacher - so did her daughter, Taylor Sills, as a 6th grade student last school year.
"There are certain teachers you remember and others you forget," Fikisha Taylor said. "He was one that stayed with me."
Bryant joked with her daughter that she'd better meet the standard set by her mom. And then half way through the year, he told Fikisha that Taylor had exceeded her mother as a student.
"He still remembered what kind of student I was, and put the same demand on Taylor," Fikisha Taylor said.
Zeke Jones, a student Bryant coached, is one former student who went on to wrestling success after learning the sport from his middle school coach. Jones won a silver medal in Barcelona in 1992 and is now the head coach of the nation's freestyle wrestling team.
Christopher Curtis, principal of Slauson Middle School, also had Bryant as a middle school science teacher and wrestling coach in the 1980s.
Curtis said Bryant was a legendary coach, and added that his Olympic background gave him a certain mystique. And he was tough.
"If you were one of his wrestlers , you were one of his kids. That also means he was hard on you. If you wrestled for him, you certainly know how to do push ups. If you screwed up in class, he'd make you do push ups."
"He had high expectations and high energy," Curtis said. "He was to me and a lot of other people, a legend. "
Juliana Keeping covers general assignment and health and the environment for AnnArbor.com. Reach her at julianakeeping@annarbor.com or 734-623-2528. Follow Juliana Keeping on Twitter