Posted on
Tue, Feb 9, 2010 : 6:03 a.m.
Ypsilanti parents pack school board meeting to oppose school closings
By Tom Perkins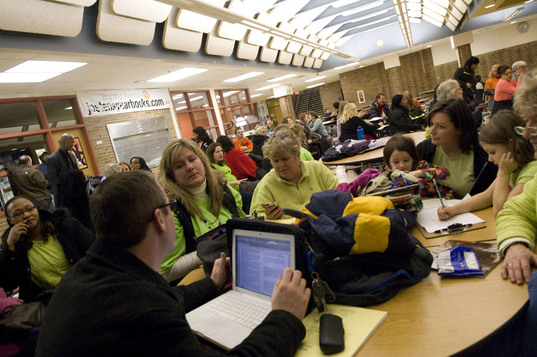 Roughly 150 parents, teachers and community members packed the Ypsilanti Public Schools board meeting Monday night to make clear their opposition to proposed school closures.
Many of those speaking during the public comment portion echoed remarks and concerns shared in several public forums over the last month.
Because of the large turnout, the fire marshal was called to keep the meeting room under maximum capacity. Those who weren't allowed in the room watched from a television set up in the cafeteria.
Many were wearing green as a way to show their opposition to the school closures.
The school board didn't make any decisions on cost-cutting measures Monday night, but heard from residents. Board members then stressed the district's need to make changes to address a $6.8 million budget shortfall that's forced it into a state deficit elimination plan.
Rachel Blistein, co-chair of the Historic Eastside Neighborhood Association, read a letter on behalf of the organization to "formally protest the possible closure of Ypsilanti Public Schools."
She said the HESNA particularly opposes the closure of Adams Elementary, one school publicly raised as a possibility for "repurposing" by district administrators. In the letter, she said the school had shaped the area's neighborhoods in a "vital and positive way."
"Adams Elementary's central location on the border between the neighborhoods of East Prospect Park, Prospect Park, Miles and the Historic Eastside makes it an essential community anchor and resource for hundreds of Ypsilanti residents," Blistein said.
Deedra Bass, a mother of two children at West Middle School, told the board she finds the option of closing the two elementary schools with the highest minority and poorest populations - Adams and Chapelle - a problem.
She added she didn't believe the administrators' motivations were to close the schools for those reasons, but recommended they consider the impact on certain communities.
"We must be intentional and aggressive in ensuring that our policy-making decisions do not continue to disenfranchise people of color and people of low socioeconomic status …. All of our children deserve an equal chance to thrive, and you are the ones who can make that happen," Bass said.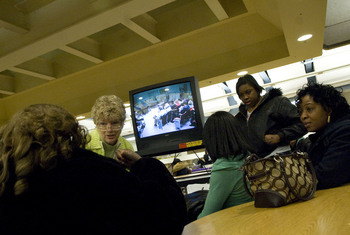 Five board members addressed the audience during the board's response segment of the meeting.
Vice-President Linda Horne repeated comments from a previous community meeting at Chapelle last Wednesday, in which she called on parents to contact legislators.
She said local legislators told her earlier that day they don't hear enough from parents and community members on the issue.
"The state doesn't believe that we are in pain," Horne said. "They say the don't hear enough from us."
Trustee Andy Fanta acknowledged the district is suffering from a steady decrease in state funding, but said it needs to reconsider the approach to making cuts.
"I think we're going about this very severe challenge not so much in the wrong way, but not so much in a way that in the long run is effective for the district," he said.
Fanta called for a "vision quest" in which the district would answer fundamental questions such as, "Who are we, where do we want to go and what is the conception of the ideal student we want to turn out in Ypsilanti?"
He said identifying core values and determining their operational costs are essential to coping with the financial crisis.
Trustee Kira Berman also encouraged those in attendance to contact their legislators and go to Lansing for a rally on March 10.
She added she felt closing schools isn't the best option, and shutting down the two schools with the most vulnerable populations is particularly troubling.
"I think we can do better than that," she said.
Trustee Sarah Devaney said none of the cuts were easy, but she preferred closing schools over many other options. "To me, that is more palatable," she said.
Board President David Bates called the cuts inevitable.
"By and large, this can be summed up as, 'Don't cut anybody, don't close any schools, don't make any changes,'" he said. "The only problem with that is we've been given a lot less money with which to operate this district."
Maria Cotera, a Chapelle Elementary parent organizing opposition to the closings, told the board two new organizations have been formed.
She said the mission of the first, the Ypsilanti Public School Alliance, is to "combat school closures" in Ypsilanti.
A second group of teachers and support staff dubbed the Ypsilanti Action Committee was formed to develop solutions to the district's budget crisis that don't involve layoffs, closures or cuts.
Cotera said community members feel school closures are "not a strategy, but a reaction" and "one with devastating consequences."
Because of the anticipated large turnout at upcoming board meetings, they'll likely be moved to a larger venue. Board members also discussed holding two more public town hall style meetings.
Tom Perkins is a freelance writer for AnnArbor.com. Reach the news desk at news@annarbor.com or 734-623-2530.