Posted on
Tue, Mar 13, 2012 : 5:57 a.m.
Ypsilanti Public Schools forecast increase in deficit, decline in students next year
By Danny Shaw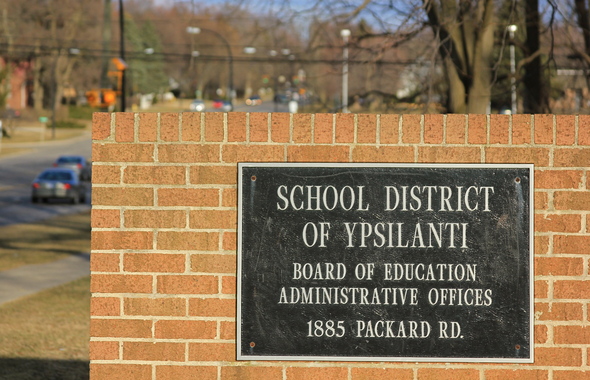 Enrollment and budget projections for the 2012-2013 school year shows Ypsilanti Public Schools losing students and facing an increasing deficit.
The
current deficit
of $9.4 million could become more than $14 million, according to
Don Sovey
, an accounting and finance consultant for the district.
"If there isn't some change at the spending level, the deficit will be at a worse state," Sovey told Board of Education members at Monday's meeting. "This budget process is just at the beginning. This is made off the assumption if nothing where to change."
Sovey reminded trustees the figures are only projections and not an actual budget, which is still being compiled. He said it will be another four to six weeks before the 2012-2013 budget proposal can go before the board.
"Much of this is for the purpose of discussion," he said. "Discussions that aren't just the administration or the board; we're going back to the staff, back to the principals, and asking for recommendations to cut costs."
The projection showed a possibility of revenue dropping to just below $40 million, about 12 percent lower than this year's revenue. Sovey said part of the loss can be attributed to an expected decline in student enrollment and cuts in state and federal funding.
According to enrollment projections presented by Sharon Irvine, executive director of human resources, the district is also expected to lose more students next year.
YPS has 3,638 enrolled students this year and according to the "best-case scenario" enrollment projection, the district will lose 50 students. The "worst-case scenario" presented showed a more extreme loss of 376 students, but Irvine reminded the Board the figure is indeed "worst-case."
"These are just projections, but we could be happily surprised," Irvine told board members. "We may see a very different perspective."
The enrollment decline could result in the district losing anywhere from $375,000 to $2.8 million. The district receives $7,514 per pupil allowance from the state, which according to Sovey is almost $500 less per student than in 2010.
Board President David Bates and Vice President Kira Berman expressed their discontent with the state and federal cuts.
"We've definitely faced some difficult challenges," Bates said, "and in my humble opinion, it's within a state that is showing less and less care for public education."
The enrollment projections are based on trends over the last few years within the district, but Irvine said it can be difficult because enrollment factors are always changing.
"Our district has so many variables," she said. "It's hard to predict enrollment past a couple of years."
Among those variables is the opening of new charter academies and changes in school education models, she said. YPS lost more than 100 students in the 2011-2012 school year.
Irvine said the decline in student enrollment could, in part, be attributed to competition with area charter schools and students using the Schools of Choice option and attending school in a different district.