Posted on
Mon, Nov 9, 2009 : 6:30 p.m.
Ypsilanti Township resident Bill Riney staging protest in a tree
By Art Aisner
Bill Riney is heading back into the trees.
Nearly five months after he prevented the removal of large pine trees lining his backyard by camping out in them, the Ypsilanti Township man said he intends to climb them again after losing in court today.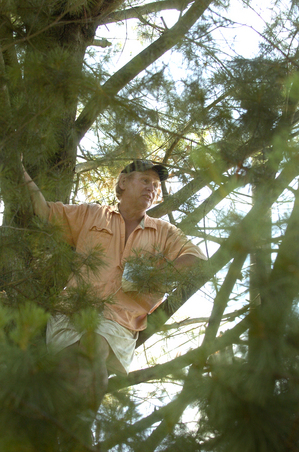 File photo
"Those trees probably took 40 years to grow, and I can't imagine my backyard without them," Riney lamented after Washtenaw County Circuit Judge David Swartz granted International Transmission Company access to his property to have the trees removed.
"We're just heartbroken about it, and they're going to cut them down unless we stop it," he said.
Riney spent about two days in June camped roughly 30 feet off the ground to prevent ITC employees from chopping down white pine trees in his Edison Avenue yard. Company officials said the trees interfere with power lines and are too mature to trim without killing them.
About a month after his one-man protest, the Novi-based company agreed to trim roughly 3 feet off two of the trees, and leave three other large ones intact, Riney said. But company officials were back in August and offered $10,200 for an easement on his property to allow them to cut the trees.
The easement was necessary to protect the lines overhanging the trees and provide access to trim, remove and even destroy trees if necessary, according to court documents.
The company served Riney with a court summons after he refused.
Riney said he didn't believe the agreement was temporary. Both he and his wife, Marcia, testified about the beauty of the trees and what they mean to their family and property value during an evidentiary hearing in downtown Ann Arbor this morning, officials said.
Two company officials, including a forester, testified about the potential danger the trees posed, said Ann Arbor-based attorney Karl Fink, who represented ITC.
Fink said he showed Swartz a short video illustrating devastating fires caused when transmission lines swayed into trees in Washington.
The witnesses also described how the company was using a line with smaller capacity to shift power to roughly 6,000 metered homes because the higher capacity lines above Riney's home remained inactive.
Swartz granted the company immediate access to the 31 feet of Riney's property for $10,200.
"The judge ruled that we showed the necessity for the easement that we were asking for," Fink said. "The line is not energized now because it's not safe and it was not safe to go in and take care of it with the access we had."
Company officials could not be immediately reached for comment, and it was unclear when the trees will be cut.
Riney said he spent the afternoon building a small landing and preparing a tent to stay more comfortable than last time. He said tonight that he won't go into the trees until company employees come to cut it, and his family and a neighbor will keep an eye out for that.
He acknowledged the offer for access was monetarily fair, but insisted money couldn't account for the emotional ties to the timbers after living with them for 11 years.
He said he's fully aware he could now be arrested by the Washtenaw County Sheriff's Department, which recommended the company seek a court order when deputies were asked to intervene in June.
"We signed an agreement to trim them and now they want a second bite of the apple. It just burns me up," Riney said. "They can shoot me out of the trees like a bear, with a tranquilizer gun."
Art Aisner is a freelance writer for AnnArbor.com. Reach the news desk at news@annarbor.com or 734-623-2530.