Posted on
Wed, Feb 29, 2012 : 5:57 a.m.
Leap day: 4-year-old Ypsilanti twins excited to celebrate 'first' birthday
By Danny Shaw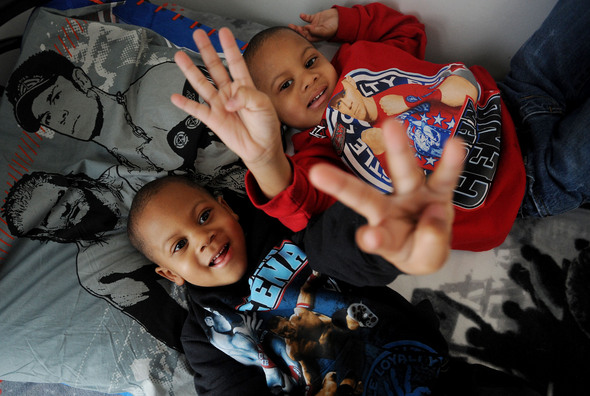 Melanie Maxwell I AnnArbor.com
Twins Caine and Carter Flowers of Ypsilanti may have been born in 2008, but Wednesday will be the duo's first-ever birthday, and they can't be more excited.
The twins recently started to learn about calendars and recognized their Feb. 29 birthday, said their mother, Kristina Stevenson. They will be turning 4 on Wednesday — 1 in leap years.
"They're super excited," she said. "Visually, they see their birthday and they've written all over it. You can't even see the 29th on our calendar anymore."
Stevenson said the family celebrated Caine and Carter's birthday on Feb. 28 and March 1 in previous years, having a party on one day and a family dinner on the other. This year, however, they're combining the two and making it more extravagant.
The party will be frog themed, since her sons know frogs leap — just like their birthday, said Stevenson. Her 5-year-old son Cam'ron Flowers first pointed out the Feb. 29 calendar spot to the twins.
"He thinks it's funny," she said. "Cam'ron knows his birthday is unique, too, since it's the day after Christmas. He's excited, too."
She said the family would like to make big parties on leap years a tradition, but they also enjoy their two-day celebrations.
"It's really great and it'll be a lot of fun," Stevenson said. "They recognize they're a little bit different. You don't normally see twins born on a leap year. People are always intrigued."
She thinks celebrating their proper birthday will be something that they look forward to every four years, although they'll still celebrate an annual birthday growing up.
"It'll always be interesting, that's for sure," she said. "It's very unique, just like them."