Posted on
Mon, Feb 13, 2012 : 5:56 a.m.
Proposed new charter school in Ypsilanti could put district's budget at 'tipping point'
By Danny Shaw
Adding another charter middle school in the Ypsilanti Public Schools could result in a "death blow" to the district's budget, Superintendent Dedrick Martin said.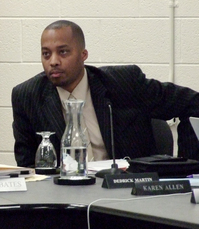 Speaking at Monday's
Board of Education
meeting, Martin said
Central Gardens Middle School
, a new charter school looking to open in Ypsilanti, could cripple the budget by attracting students away from YPS.
The district currently receives a $7,514 foundation allowance per-pupil from the state. Representatives from Central Gardens Middle School said they are anticipating 160 students for their fall 2013 debut and a total capacity of 220 students.
That could result in a loss of $1.2 million to $1.7 million from YPS, which Martin said would lead to a severe number of layoffs and a complete restructuring of the district's budget.
"I think we would be at, or beyond the tipping point, if we saw that many kids walk away," Martin said. "Even if they take only a portion of the kids, that really doesn't help us, it'll hurt us."
The charter school is being proposed by Excellence for Sustainability Education, an Ypsilanti-based nonprofit organization. The organization is requesting the charter to be authorized by YPS. Gina McGovern, Excellence for Sustainability Education board president, and Michele Jones, project manager, said they would like to see a partnership with YPS.
"Certainly we are looking to stay local; we're all about benefiting the community and being tied to the community," Jones said regarding the charter. "We would really like to be groundbreaking in looking at how the public school district and charter schools find a way to coexist."
McGovern said the charter issuer can collect up to 3 percent of the charter's state aid, which is something the district would not receive if the charter is issued by another authorized body.
"We intend to open," she said. "If we can do it with the public schools, that would be our first choice."
McGovern said they are looking into other venues for authorization if the Board doesn't issue the charter. Washtenaw Intermediate School District, Eastern Michigan University and Central Michigan University are options McGovern said they are looking into.
Gerri Allen, supervisor of communication services for WISD, said earlier last week if the board authorizes the school, it will be the first local school district in the county to do so. If the proposal is rejected, Central Gardens still can apply for a charter from any other authorizing organization.
It would be the third charter middle school in the Ypsilanti area, along with Fortis Academy and South Arbor Charter Academy.
While presenting to the board, McGovern and Jones said the proposed school would give students in the Ypsilanti area another option with project-based, hands-on learning.
"We want to offer another option to the students of the area, which could promote them to the public high school," McGovern said.
YPS board members expressed their concerns, saying a similar model will go into place this year at Ypsilanti Middle School.
"I feel, in the interest of honesty, we here at Ypsilanti Public Schools ... have a dream," Trustee Ed Jackson said. "Our dream is that in the not-too-distant future, we will make our school so good that parents from other school districts will take their children out of their current districts and put them into Ypsilanti School District."
The New Tech national education model, which promotes project-based learning with an emphasis on technology, will be implemented at YMS by the end of the year. It is the same model currently used at New Tech High School at Ardis.
McGovern said she thinks the ideal situation would be to open in partnership with YPS and attract students from a wide area.
She said the next step is to give the board additional information about their curriculum and meet again to discuss the proposal.
"We share the board's dream as well, and it's a dream we want to be a part of," she said.
Contact reporter Danny Shaw at 734-623-2544 or dannyshaw@annarbor.com.