Posted on
Wed, Sep 11, 2013 : 2:59 p.m.
Auction yields no sale of Smith Furniture Building in Ypsilanti after owner rejects high bid
By Tom Perkins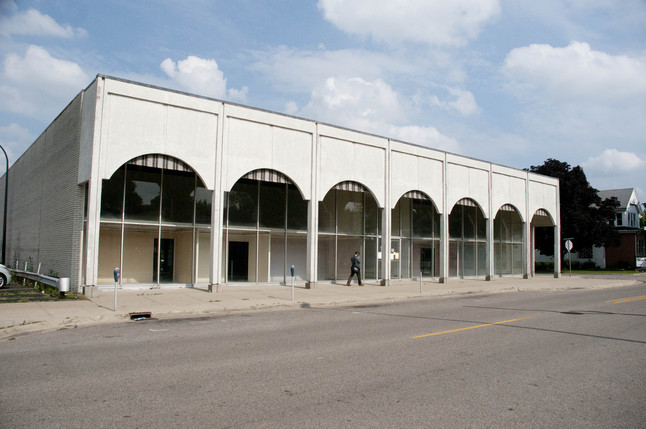 Tom Perkins | For AnnArbor.com
And the winner is….
No one.
The historic downtown Ypsilanti Smith Furniture Building was set to sell at a billed-no-minimum-bid auction today, but a bid entered by Ann Arbor-area developer Phil Conlin for $50,000 was rejected by the building's owner, James Pate.
According to auctioneer Jerry Helmer of Braun-Helmer Auction Service, it will take approximately $100,000 to cover the auction costs including $60,000 owed in back taxes for the last two years. Conlin's bid would have left Pate paying around $50,000 to sell the building.
The 24,000-square-foot building at 15 S. Washington St. has largely sat vacant since it was purchased by Pate in 1992. After recent pressure from the city, Pate opted to put it on the auction block.
Helmer said Pate preferred a no-contingencies, no-minimum-bid auction because he wanted to quickly offload the property.
Around six individuals or groups registered to bid. Local businessman Steve Pierce offered a start of $5,000, and Conlin followed up with a $50,000 bid.
Several groups mulled over offering a higher figure but ultimately declined to bid.
Helmer said he informed Pate of the dollar figure, and the bid was declined. The building is now on the market and those interested can contact Braun-Helmer.
After the auction, Conlin said he considered the Smith building because of some of its attractive selling points.
"There's a lot of square footage for the price," he said. "It's in a good downtown location and it's fairly well built."
Conlin said he was surprised no one bid higher than him, though he didn't want to bid more because of what he called Pate's relationship with the city.
"Mostly, there's a lot of hostility between the city and property owner, and it takes a lot of city cooperation to put together a quality development," he said. "That's not there, so it's a little scary."
"I'm not an Ypsi guy," he added.
Pate was charged in June with a criminal misdemeanor for ignoring a city order to bring the mold-infested downtown building up to code and receivership has been discussed.
Helmer said he was surprised by the lack of bids and thought there would be more interest because the bidding started at zero.
"It's not an impulse buy," he said, adding that the building's interior physical appearance can cause doubt.
Some mold remains in the interior, though the lush, green mold growth that blanketed much of the floor and drywall has been removed by Braun-Helmer. The company also made repairs to the leaking roof.
Helmer said the concrete and steel structure is otherwise in good shape and structurally sound.
Still some remediation remains and city officials have said a new rood is likely needed. The buyer is responsible for bringing the property up to code.
City Planner Teresa Gillotti was one of several city officials in attendance.
"We're surprised it didn't sell, but we're going to continue having conversations with a few people to see if we can get someone to provide an offer," she said. "We'll see if something happens in the next couple days."
Gillotti added that staff will update city attorneys on the situation.
The building was built in 1965 by the Smith Furniture Company. City records show it has a taxable value of $266,000 and Pate purchased it from the former owners for $300,000.
Pate, who was a vice-president at the Ypsilanti Savings Bank, used to play a large role in the Ypsilanti business community, but rarely utilized the building except as an office space for his wife. In 2008, Ann Arbor Spark considered utilizing the building for a high tech business incubator, but those plans didn't work out.