Posted on
Wed, Feb 16, 2011 : 11:30 a.m.
Medical marijuana dispensary licenses will be first-come, first-served, Ypsilanti City Council decides
By Tom Perkins
The City of Ypsilanti will consider applications for medical marijuana dispensary licenses on a first-come, first-served basis despite concerns from some council members that the process will result in applicants camping out at City Hall to be first in line.
The council approved the ordinance establishing the licensing process on a unanimous vote Tuesday night. How the city would handle receiving applications was the last major sticking point.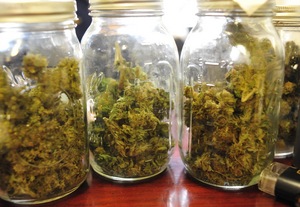 One applicant,
Adam Tasselmyer
, who plans to open the
Herbal Solutions
medical marijuana dispensary at 124 West Michigan Ave., vowed to camp out in front of city hall, if necessary.
Council approved the ordinance as a resolution, which means existing dispensaries can start applying on Tuesday. That shortens the time new dispensaries will have to wait to submit a license application by 30 days.
The council had approved the ordinance on first reading Feb. 1.
The city's one current dispensary, 3rd Coast Compassion Center, will have 30 days from Tuesday to submit an application uncontested. That's followed by a 15-day appeal period in case the application is denied. Once that 15-day appeal period expires, new applicants can apply.The applicant must meet all the criteria established by the city to receive a license.
Submitting an application first is important because dispensaries aren't allowed within 500 feet of one another. Only two dispensaries will be allowed downtown. Because 3rd Coast Compassion Center is already open at the corner of Hamilton and Pearl Streets, that leaves room for only one more facility.
City Planner Teresa Gillotti said people regularly inquire about the licenses, but downtown is the only area where there are currently two serious applicants competing for one available license.
Tasselmyer said he has already invested $40,000 in his store, and he has been working closely with city staff to ensure he's complying with ordinances and guidelines.
"I've done everything right to set up my business here," Tasselmyer said.
Gillotti previously said staff was checking with City Attorney John Barr to see if there was a legal way to give Tasselmyer preference, but staff has determined the first-come, first-served approach is best.
No rules or guidelines for how to deal with a line of applicants should one form, but Gillotti said city staff is exploring the issue.
Tasselmyer said he's willing to have his dispensary's eight employees rotate in and out of line for 24 hour periods as soon as he gets the OK from Gillotti to begin waiting, which is expected to happen early next week.
In response to concerns about applicants camping out to be at the head of the line, Barr cautioned against weighing applications based on a standard other than first-come, first served. A different standard leaves some discretion to city staff, and that could lead to accusations of nepotism, he said.
"What the staff has done is say 'We'll use time as the issue — if you get here first, then you get the prize,' and that's a very clear standard," Barr said.
Mayor Paul Schreiber, suggested awarding the license to whomever was better positioned to succeed, but Gillotti questioned how to make that determination. Council Member Mike Bodary said staff has been working on medical marijuana ordinance issues for three months and he didn't see a better way to address the situation.
"Staff has beat their heads against the wall coming up with better criteria," he said. "They haven't yet, and I don't see that in the next two weeks we're going to suddenly come up with the magic criteria that's a better process than the queuing process … I think it's time to move this on and get on with the city's business."
Council Member Dan Vogt initially raised concerns that the competition for the first spot in line could possibly lead to violence. But he eventually voted for the ordinance without any changes.
"I'm not persuaded there is a criteria that would work any better," he said. "Those of you who would want to be in line better get in line tonight, and be able to prove you have been in line continuously for the next 75 days — good luck!"
Tom Perkins is a freelance reporter for AnnArbor.com. Reach the news desk at 734-623-2530 or news@annarbor.com.